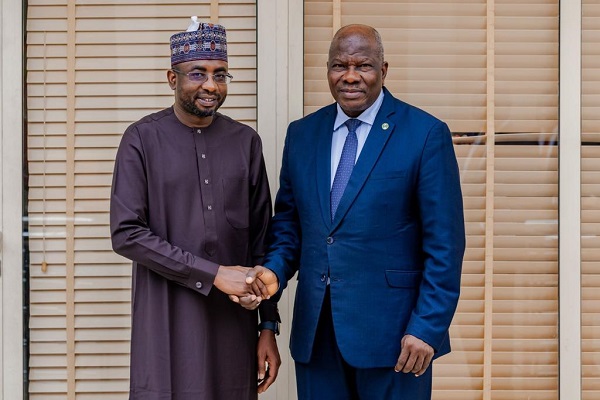 The National Information Technology Development Agency (NITDA) is seeking to form a partnership and collaboration with the National Insurance Commission (NAICOM) to establish cyber security insurance as a standard practice in the country.
The director-general of NITDA, Mallam Kashifu Abdullahi led the agency's management team on a courtesy visit to the chief executive officer of NAICOM, Olorundare Thomas emphasising the necessity of insurance coverage due to the widespread reliance on the internet for business operations.
Abdullahi highlighted that nearly every adult in Nigeria carries a powerful computer in their hand or pocket, which exposes them to cybercrimes and criminals. Citing reports, he stated that global cybercrime costs reached almost $6 trillion in 2021 and are projected to grow by 15 per cent annually. Abdullahi noted that the current figures have already increased to about $8 trillion and are estimated to reach $10.5 trillion by 2025.
"If we could quantify cybercrime as a nation, it would be the third-largest economy, surpassing the combined costs of all other crimes," Abdullahi stated. "Considering this, we need to institutionalise Cyber Insurance because Nigeria loses approximately N200 billion annually to cybercrime. Just 0.0 per cent of the nation's gross domestic product (GDP) is worth more than N200 billion."
Highlighting the rapid digitization of services and the acceleration caused by COVID-19, Abdullahi expressed the urgency to secure cyber insurance. He emphasised that while NAICOM has the primary mandate of insurance, NITDA also has specific mandates related to cyber insurance and the development of information technology in Nigeria, where cybersecurity plays an integral role.
Abdullahi expressed hope that obtaining cyber insurance would enable the country to mitigate recurring losses, strengthen the ecosystem, and upgrade the quality of systems in Nigeria. He also noted that other African countries, including South Africa, Kenya and Egypt, have already institutionalized cyber insurance. Considering Nigeria's status as the largest economy in Africa with a vibrant digital ecosystem and a rapidly growing digital economy, Abdullahi believes it is the right time for Nigeria to follow suit.
Responding to NITDA's proposal, the chief executive officer of NAICOM, Olorundare Thomas acknowledged the importance of addressing the risks associated with technology. He recognised Nigeria's position as a nation heavily reliant on data and emphasised the need for increased workforce and attention to cybercrime in line with technological advancements.
Thomas assured the NITDA team of NAICOM's readiness to partner with the agency in institutionalizing cyber insurance. Both organizations agreed to form a committee consisting of six members, with three representatives from each organisation, to determine the operational framework and define the terms of reference.
The collaboration between NITDA and NAICOM signifies a proactive approach to cybersecurity in Nigeria. By institutionalising cyber insurance, the country aims to safeguard businesses, strengthen systems, and protect against the escalating costs of cybercrime.