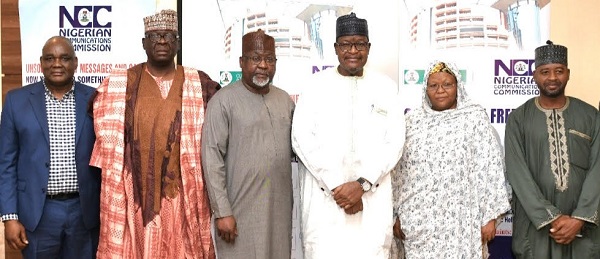 In a concerted effort to realise its strategic vision for the Nigerian telecommunications sector, the Nigerian Communications Commission (NCC) has made a bold promise to push for 50 per cent broadband penetration by the close of 2023, further advancing the national target of achieving 70 per cent by 2025.
This commitment was a pivotal point during a special media chat organised by the NCC, led by its executive vice chairman, Prof. Umar Danbatta. The event aimed to provide insights into the achievements of the commission since Danbatta's tenure began.
During the chat, Danbatta revealed that subscriptions to Fifth Generation (5G) services had already surpassed half a million. The strides made in improving broadband penetration were highlighted, with the latest figures from July 2023 indicating a rate of 47.01 per cent.
These accomplishments align with the NCC's comprehensive five-pillar Strategic Vision Plan 2023-2025, encompassing regulatory excellence, universal broadband, market development, digital economy and strategic collaboration.
Danbatta spoke about the significant milestones achieved under his leadership since 2015. Active telephone subscribers have increased from under 150.7 million to 218.9 million, resulting in a tele-density growth of 115.70 per cent, up from 107.87 per cent in 2015.
Broadband penetration has surged from 6 per cent in 2015 to the current rate of 47.01 per cent as of July 2023. This has facilitated over 89.73 million subscriptions across 3G, 4G, and 5G networks. General Internet subscriptions have soared from less than 100 million in 2015 to 159.5 million.
The telecommunications sector's contribution to the Gross Domestic Product (GDP) has increased from 8 per cent in 2015 to 16 per cent in the second quarter of 2023. Additionally, investments in the sector have grown substantially, from $38 billion in 2015 to $75 billion, with the figure continuously rising. The sale of the Fifth Generation (5G) C-Band Spectrum alone has generated over $847.8 million for the Federal Government.
Danbatta, who has received numerous awards at national, regional and global levels for the outstanding performance of Nigeria's telecom industry, shared a comprehensive list of achievements since 2015. Initiatives included the introduction of Spectrum Trading Guidelines, spectrum re-farming and re-planning for efficiency, the release of C-Band Spectrum by Nigerian Communications Satellite (NIGCOMSAT) Limited and the introduction of the Expanded Revenue Assurance Solution (ERAS) to address revenue leakage and enhance government revenue from the telecoms industry.
These achievements also encompassed the licensing of satellite earth stations, operating licenses for SpaceX Satellite, the facilitation of additional submarine cables like the Google 2,000km Equiano subsea Internet cable in 2022, the listing of MTN on the Nigerian stock exchange, the licensing of mobile virtual network operators (MVNOs), the introduction of new unlicensed millimeter-wave spectrum, among other regulatory advances.
As part of the NCC's commitment to strengthening the telecoms sector, the commission has endowed professorial chairs in Nigerian universities and allocated over N500 million to research and development (R&D) initiatives. The creation of the digital economy department and the establishment of the Nigeria Office for Developing Indigenous Telecom Sector (NODITS) are further significant strides.
Danbatta emphasised the commission's consumer-focused initiatives, including the establishment of Emergency Communications Centers (ECCs) in over 30 states and the Federal Capital Territory (FCT), which have played vital roles in providing assistance during emergencies. The creation of the Computer Security Incident Response Team (CSIRT) has also ensured effective protection for telecom consumers online.
The NCC has taken substantial actions in consumer protection, advocacy, information-sharing, and education. These efforts include introducing data roll-over, the 622 toll-free number for service-related complaints, the Do-Not-Disturb (DND) 2442 Short Code to combat unsolicited text messages, elimination of deceptive subscriptions to telecom services, tackling call masking, ensuring effective Subscriber Identity Module (SIM) registration, launching national roaming services and reducing access gaps to telecom services from over 217 to 97, expanding access to more Nigerians.
While acknowledging challenges such as vandalism, securing equitable right of way (RoW) from government stakeholders, multiple taxation and regulation, Danbatta emphasised the commission's commitment to collaborating with necessary stakeholders to overcome these obstacles and sustain the telecoms sector's growth trajectory, which has been a key driver of socio-economic development in Nigeria. The NCC's renewed pledge of reaching 50 per cent broadband penetration by the end of 2023 showcases its determination to expand connectivity and digital opportunities for all Nigerians.