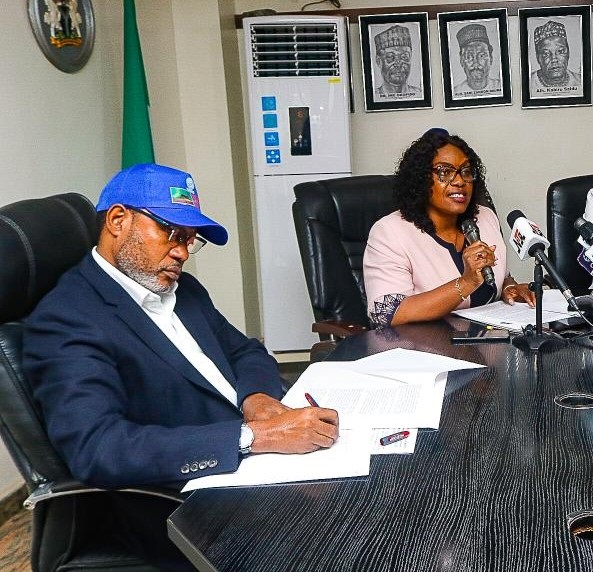 The Federal Government has warned Nigerians of the high rate of malaria infection in the country which has caused the death of scores of citizens.
According to the World Health Organisation (WHO) Nigeria has the world's highest malaria burden, with annual reported cases of 55 million and 207,000 deaths representing nearly 30 per cent of the total malaria burden. Also, it estimated that nearly 173 million Nigerians are at risk of being infected.
The Minister of Environment, Barr. Mohammed Abdullahi, disclosed this during the press briefing of the World Mosquito Day held today (August 22, 2022) in Abuja.
Abdullahi said President Muhammadu Buhari inaugurated the Nigeria End Malaria Council (NEMC) where he mandated it to ensure successful implementation of the council's programme that should translate into N2 trillion savings from the estimated economic burden of the disease by 2030.
"The Federal Ministry of Environment is solidly behind the President in achieving the onerous target set for the NEMC which is quite achievable with the right implementation of strategies utilizing collaboration and partnership. The decision for Nigeria to establish the NEMC is, indeed, laudable given the importance the African Union attaches to it.
"The inauguration of the NEMC coming barely five days to the World Mosquito Day is testament to the fact that the killer arthropod is the centre of attraction as case management of malaria has proven to be less effective in the control of the hyperendemic disease. Similarly, although control of the adult mosquito bite through the use of insecticide-treated (mosquito) nets is posting some gains, attaining the desired impact is not near and is unfortunately not too reliable, a strategy. It remains critical that hierarchically, effective mosquito control takes the form of exclusion-removal of suitable vector habitat through sound hygiene and sanitation which stops breeding by preventing egg-laying, life cycle control, larviciding to reduce/eliminate egg-hatching and oiling & adulticiding, which is used for controlling pupacy and adulthood, respectively. By nature, mosquitoes require a filthy, dirty and unkempt environment to survive and reproduce."
The minister urged individuals, families and community members to keep waste materials and junk away from village squares, huts, rooms etc; insect-proof their rooms by using wire mesh to reduce mosquito entry into living and bedrooms, make sure that they do not keep derelict or disused materials in and around dwellings and regular cleaning and removal of waste and junk materials.
"Essentially, they should endeavour to seek the assistance of trained environmental health practitioners on best ways of handling mosquitos and other animal disease vectors generally.
"The ministry remains committed to our mandate of disease pest and vector management in Nigeria. To this end, we are entrenching a sustainable programme focusing on eliminating and/or reducing breeding avenues for disease vectors which involves fostering collaboration with stakeholders including sub-nationals, development partners, relevant ministries, departments and agencies (MDAs), civil society, community leaders etc.
"We are working to strengthen our administrative and technical structures to emplace a robust and comprehensive vector control programme with special emphasis on mosquito control. The strategies to be deployed would include integrated pest and vector management as outlined in the National Environmental Sanitation Policy 2005. Our roles in Integrated Vector Management as identified in the National Malaria Strategic Plan 2014 will be played expeditiously and as diligently as possible to deliver on our mandate."
The Minister of Health, Dr. Osagie Ehanire, in his presentation stressed that: "The ubiquitous mosquito is an important vector of some of the world's deadliest pathogens that causes diseases of major public health importance such as malaria, yellow fever, dengue fever, Zika virus, Chikungunya virus, West Nile virus, amongst others. It is with this in mind that the Federal Ministry of Health places a strong importance on interventions that will limit the vector-human contact towards protecting our people from these diseases. It is important to mention that not all of these diseases are endemic in Nigeria."
Ehanire, represented by the national coordinator of the National Malaria Elimination Programme, Federal Ministry of Health, Dr. Perpetua Uhomoibhi said: "In Nigeria alone, over 30 anopheles species of mosquitoes have been reported across the five geo-ecological zones in Nigeria. This is apart from the aedes and culicine species of mosquitoes."
"The National Malaria Elimination Programme (NMEP), in collaboration with partners, has established 29 entomological surveillance sentinel sites across the country to monitor the vector behaviour/bionomics and insecticide resistance patterns across the different ecological zones of the country.
"The major challenge we are facing currently remains the growing threat of insecticide resistance to currently available insecticides used in conventional mosquito nets.
"Calling on the general public to support these malaria elimination efforts. A large part of the implicating factors rests on human behaviour and attitudinal change. Simple actions like keeping our immediate environment clean, ridding our surroundings of refuse and unwanted receptacles, screening out windows and doors and sleeping inside insecticide-treated bed nets every night will go a long way in curbing the malaria menace as well as other mosquito-borne diseases," he added.