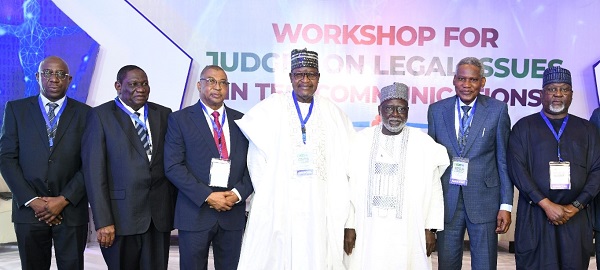 The Chief Justice of Nigeria (CJN), Hon. Justice Olukayode Ariwoola has hailed the Nigerian Communications Commission (NCC) as a distinguished telecom regulator in Nigeria.
Ariwoola, the chairman of the board of governors of the National Judicial Institute (NJI), rendered the plaudits during his opening address at the 2023 annual workshop for judges on telecommunications issues, held in Kano.
The judge expressed his appreciation for the NCC's efforts in spreading awareness and knowledge of information communications technologies (ICT) among the judiciary and the general public.
Ariwoola emphasised the significance of the workshop's theme, "The Adjudication Path in a Digital Era," in the context of today's technological advancements. He acknowledged that the use of the Internet has revolutionized court service delivery, making it an essential topic for discussion.
"We are obliged to embrace this transformation while ensuring that doing justice remains at the forefront of our efforts."
The workshop welcomed esteemed members of the judiciary, including justices from the Supreme Court, Appeal Court, Federal High Court, State High Courts and the NJI. They were greeted by the executive vice-chairman of the NCC, Prof. Umar Danbatta who shared that the Nigerian Communications Act (NCA) 2003 is currently undergoing a comprehensive review to update its provisions.
Ariwoola commended the workshop for providing a platform to address the challenges posed by the digital revolution in the judiciary. He emphasised the need to prioritise the examination of data privacy and information security laws, considering the vast amount of data generated and collected in the digital realm.
"As Judicial Officers, you are responsible for carefully assessing the legal implications of data collation, storage, and utilisation," Ariwoola said.
Danbatta, in his welcome address, expressed gratitude to the CJN and other distinguished members of the judiciary for their attendance. He reaffirmed the NCC's commitment to equipping the judiciary with the knowledge required to navigate the digital era, emphasising the importance of the judiciary's role in advancing justice within the digital economy.
Danbatta noted the dynamic nature of the telecommunications sector, indicating the need for legislative updates to accommodate evolving technologies.
He explained, "To instill societal confidence in the digital economy, at least, two things are required: a safe and effective backbone infrastructure, as well as an efficient adjudicatory mechanism, which is easily accessible in the digital space".
The NCC's partnership with the NJI aims to enhance judges' capacity in this area, ensuring that the judiciary remained an integral part of the digital economy. Danbatta disclosed that the NCC Act, established in 2003, is currently undergoing a comprehensive review to address its outdated provisions. He invited the media to participate in the public presentation of the revised Act.
The workshop, titled "2023 National Workshop for Justices and Judges on Legal Issues in Telecommunication Matters", was jointly hosted by the NCC and the National Judicial Institute (NJI), a statement from the commission's director of public affairs, Reuben Mouka, said.