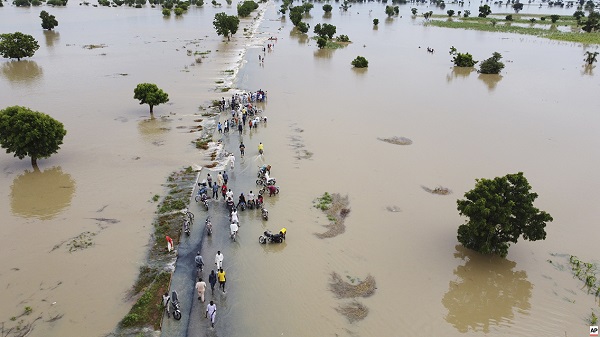 In a recent weather forecast, the Nigerian Meteorological Agency (NiMet) has projected three consecutive days of substantial rainfall across several states in Nigeria.
The affected regions are expected to experience moderate to heavy rainfall from Wednesday, September 20, through Friday, September 22, 2023. This weather advisory encompasses parts of Niger, Plateau, Taraba, Cross River, Akwa Ibom and Abia states.
NiMet's forecast also anticipated light-to-moderate rainfall in the Federal Capital Territory (FCT), Delta, Enugu, Imo, Ebonyi, Kogi, Kwara, Oyo, Nasarawa, Ekiti and Kaduna. Conversely, no rainfall was predicted in Edo, Ogun, Benue, Lagos, Borno, Yobe, Jigawa, Katsina, Kano, Bauchi, Gombe, Zamfara, Kebbi, Sokoto, and Osun states during this period.
These rain showers are likely to be accompanied by moderate-to-intense thunderstorms, particularly in Bauchi, Plateau, Kano, Katsina, Kaduna, Niger, Kebbi, Sokoto, Kwara, Taraba, Adamawa and Borno states. Additionally, strong winds are expected to sweep across the entire northern region, extending to Benue, Kogi, Kwara, Nasarawa and Plateau states.
To ensure safety during this period, NiMet advises the public to exercise caution when encountering surface runoff waters, as they may contain strong undercurrents. Other potential hazards include slippery road surfaces, reduced visibility due to rainfall, which can disrupt road traffic and the risk of strong winds damaging weak structures, trees, and communication masts. NiMet also recommends disconnecting electrical appliances before the rains to prevent electrical accidents.
It's important to note that no significant hydro-meteorological hazards are expected, but vigilance and preparedness are essential to minimise any potential risks associated with the upcoming weather conditions.
The agency advised citizens and residents in these states to "stay safe and keep informed about local weather updates in your area".