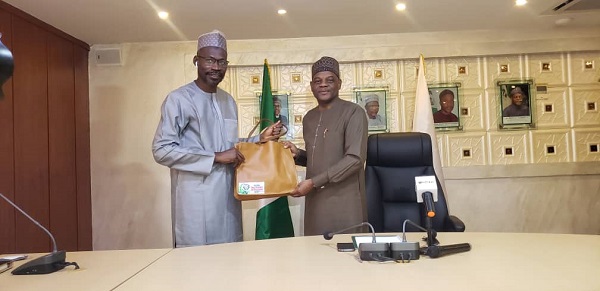 The director-general of the National Space Research and Development Agency (NASRDA), Dr. Halilu Shaba has called for possible collaboration on the establishment of a TETFUND Centre of Excellence for Space Science and Engineering for the advantage of space researchers and students in the field of space science and technology from tertiary institutions across Nigeria.
He made this call when he led the management team of NASRDA on a courtesy visit to the headquarters of the Tertiary Education Trust Fund (TETFUND) in Abuja.
Shaba, who congratulated the newly appointed executive secretary of TETFUND, Arch. Sonny Echono on his appointment explained that the agency is working assiduously as directed by the President Muhammadu Buhari to collaborate with relevant organisations to fast-track the delivery of the Nigerian Space Programme.
He maintained that the space agency remains the sole institution saddled with the responsibility of engaging in empirical research and data analysis in all space-related activities in Nigeria.
He explained that NASRDA would like to leverage the existing cordial relationship with TETFUND for a possible collaboration on the establishment of the centre of excellence.
The NASRDA boss highlighted the capabilities and capacity available in the agency and stressed that the proposed collaboration will go a long way in assisting the agency in designing, building and assembling satellites, as well as aid in the training and intellectual empowerment of budding space scientists and engineers.
He further intimated the executive secretary on existing partnerships with TETFUND-funded institutions such as the Air Force Institution of Technology and pledged the agency's support to be of service to TETFUND, especially in territories of mutual interests such as education.
In his remarks, Echono welcomed the NASRDA delegation and appreciated the DG and the management team for their congratulatory message on his appointment.
Echono commended NASRDA on its doggedness in accomplishing its mandate and lauded the agency on its myriad of achievements through the years. He went further to express the willingness of TETFUND in partnering with agencies toward goals and objectives in line with its core mandate.
A statement by Ninma Yacim of NASRDA's media and corporate communications unit said Echono stated that although the law establishing the TETFUND only permits sponsorship of projects in universities and polytechnics, a partnership that will involve the signing of a memorandum of understanding (MoU) can be formed to enable support for NASRDA's initiative, through institutions benefitting from TETFUND programmes.