Former President of Nigeria, Dr. Goodluck Ebele Jonathan (GEJ) has called for the support of African leadership in utilising technology to drive the economy through the agricultural sector.
Jonathan made this assertion on Wednesday during an event marking his appointment as the Goodwill Ambassador for the African Agriculture Technology Foundation (AATF).
He emphasised that through agricultural advancements facilitated by technology, Africa can achieve food security, poverty reduction, and improve the livelihoods of its people. Jonathan stated, "A crucial figure in this endeavour is the smallholder farmer – the individual responsible for nourishing urban populations. They deserve to reap the rewards of their hard work and investment in agriculture, and they also deserve a healthy, fulfilling life, which technology can provide".
"In this role, I am reminded of the daily challenges faced by our farmers. Climate change, pests, diseases, and a growing population place immense pressure on our agricultural systems."
Jonathan acknowledged that inadequate integration of technologies in the African agricultural sector has contributed to low yields and high post-harvest losses, particularly in perishable goods like fruits and vegetables, which can reach up to 40 per cent. "On the flip side, modern technology has elevated productivity in numerous global countries. With technology, smallholder farmers can achieve quality harvests and increased yields. Such yield improvements arise from crop protection against insect damage, enabling the full potential of the plant's yield.
"Technologies also present new opportunities. For instance, satellite imagery and drones are aiding in pest and disease management through precision agriculture. Swift response due to early detection empowers farmers to overcome these challenges," he noted.
Jonathan accepted the Goodwill Ambassador role due to his profound belief that agriculture forms the cornerstone of Africa's economy, and that technology can greatly contribute to its advancement. "This role is inherently connected to my faith in sustainable development and the enhancement of African farmers' prosperity through technology use. It's a role that rejuvenates my commitment to our continent's development and progress."
He added that the success of Africa's free trade agreement hinges on how countries can leverage production and markets through technology and science.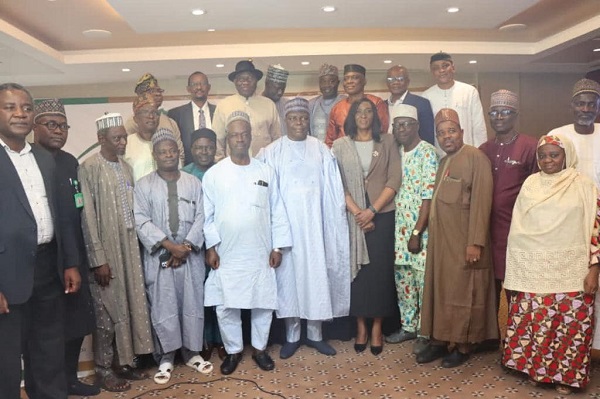 The executive director of AATF, Dr. Canisius Kanangire emphasised the organisation's dedication to enhancing food security, livelihoods and sustainable agricultural practices by bridging the gap between science, technology and farmers. Kanangire stated, "We gather here to not only celebrate a remarkable individual but also a visionary partnership committed to transforming the agricultural and technological landscape across our continent.
"As we witness this significant occasion, let us remember that change is a collective endeavour. Governments, private sector partners, civil society and individuals all play roles in shaping Africa's agricultural landscape. Let us be inspired by Dr. Goodluck Jonathan's leadership and commitment, and work together to create a resilient agricultural sector that empowers farmers, nourishes communities, and uplifts nations."
Kanangire also highlighted Jonathan's unwavering commitment to fostering socio-economic growth and development during his tenure as Nigeria's President.
In his remarks, executive secretary of the Agriculture Research Council of Nigeria (ARCN), Prof. Garba Sharubutu, said that the occasion marked a significant development in Africa's agricultural landscape. "It is an honor to stand before you as the chairman of this event, as we come together to introduce a true advocate for positive change in African agriculture.
"As we bestow upon him the title of AATF Goodwill Ambassador, we recognise his dedication to advancing agricultural technologies that have the potential to uplift the lives of millions across the African continent," he affirmed.
Sharubutu, who chaired the event, emphasised that Jonathan's leadership during his presidency emphasised the importance of sustainable agricultural practices in achieving food security, economic growth, and poverty reduction.
"Dr. Jonathan's acceptance of the AATF Goodwill Ambassador role signifies his ongoing commitment to the advancement of agriculture in Africa," he added.