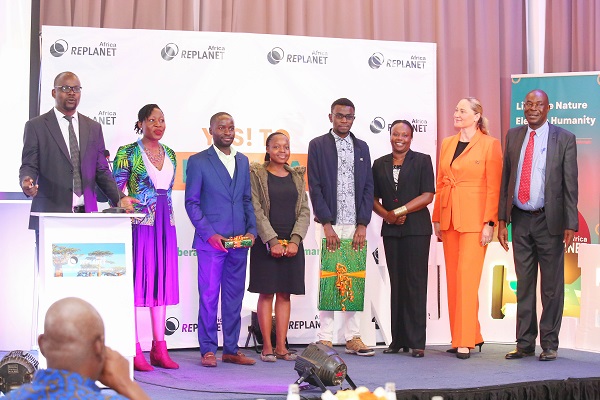 Africa's commitment to harnessing the potential of nuclear energy was prominently displayed during a ceremony honouring the winners of RePlanet Africa's inaugural essay writing competition on nuclear power.
The competition aimed to stimulate conversations and innovative thinking regarding nuclear energy's role in Africa's pursuit of Sustainable Development Goal #7 (access to clean and affordable energy) and Goal #9 (promotion of sustainable industrialisation).
This essay competition garnered participation from 128 entrants representing 60 universities across 13 African countries. Emerging as the top scholar was Mike Felix Okoth Ochieng, a fifth-year student majoring in electrical and electronics engineering at Kenya's Jomo Kenyatta University of Agriculture and Technology.
The first runner-up was Connor Dalen, a first-year physical sciences student at the University of Pretoria in South Africa, while Chiahanam Joseph, a fifth-year medicine and surgery student at the University of Nigeria Nsukka, claimed the second runner-up spot. Kiggala Jessy Sean, a fourth-year student studying petroleum geoscience and production at Uganda's Makerere University, secured the fourth position and Sandra Afwande Olang'o, a fourth-year radiography student at Jomo Kenyatta University of Agriculture and Technology, rounded out the top five.
Among the participating countries, Uganda, Nigeria and Kenya exhibited the highest levels of involvement with 38, 36 and 33 entries, respectively. Other nations contributing to the competition included Ghana (6), Burkina Faso (1), Egypt (1), Ethiopia (1), Liberia (1), Malawi (4), Sierra Leone (3), South Africa (2), Tanzania (1) and Zambia (1).
Dignitaries attending the event highlighted the significance of nuclear power in Africa's energy landscape. Vice-chairman of that country's National Environmental Management Authority (NEMA), Hon. Soipan Tuya, representing the CS Cabinet Secretary of the Ministry of Environment, Climate Change and Forestry, described nuclear energy as potentially "Africa's last best bet to addressing climate change and powering sustainable economic development." She emphasised the advantages of nuclear power, such as enhanced energy security, baseload power, reduced greenhouse gas emissions and expanded access to electricity for underserved communities.
The secretary-general of RePlanet, Karolina Gylfe praised the initiative as essential for sparking conversations about nuclear energy and transitioning African economies from fossil fuels to clean energy.
Chairperson of the RePlanet Africa board and board member of the National Environment Management Authority (NEMA), Prof. Charles Kibanani Ngome explained that the essay competition aimed to empower the next generation of leaders and thinkers to actively shape Africa's energy future. By promoting critical thinking and research skills, RePlanet Africa seeks to nurture individuals equipped to address the energy challenges of the 21st century.
The RePlanet Africa coordinator, Patricia Nanteza stated that the competition's purpose was to encourage a deeper understanding of nuclear energy's role in Africa's sustainable development. She highlighted how the competition provided a platform for university students to delve into the subject matter, contribute to discussions on sustainable energy solutions, and showcase their research skills, critical thinking, and innovative ideas. Nanteza emphasised that, by participating, students contribute to Africa's energy sector while competing for recognition and valuable prizes.
An esteemed panel of judges, composed of experts from the energy sector, climate change, and sustainable development enthusiasts from around the world, meticulously evaluated the essays based on criteria such as originality, depth of research, innovation, relevance to climate change and connection to sustainable development.
The top winner and their collaborating lecturer will enjoy a three-day trip to a nuclear power plant in South Africa. The first and second runners-up received laptops, while the fourth and fifth winners won smartphones. The top five essays will be published on the RePlanet Africa website, and all 128 participants will become honorary members of RePlanet Africa.
The event united government officials, experts, policymakers, scholars, researchers and students with a shared goal: to propel Africa toward a cleaner, more secure and economically viable future.