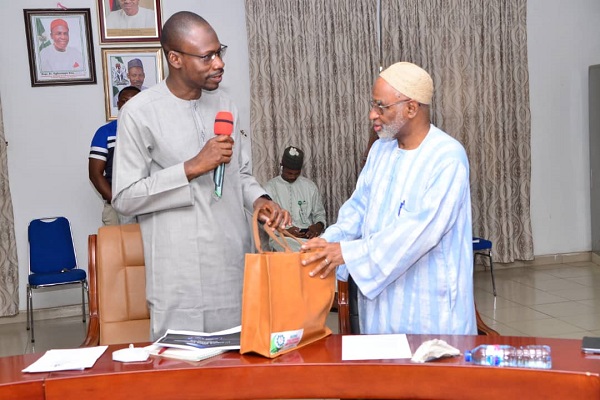 The director-general, National Space Research and Development Agency (NASRDA), Dr. Halilu Shaba, has revealed plans for hosting Africa's first-ever African Economic Space Conference.
He revealed that the meeting which will be held in Abuja will be hosted in collaboration with the Abuja Chamber of Commerce and Industry (ACCI).
Speaking when he received a delegation from the chamber in his office in Abuja, he said the conference will be a potential platform for the marketing of space products, services and solutions [which are all] available in NASRDA.
Shaba applauded the efforts of ACCI in supporting NASRDA towards the actualisation of the first African Economic Space Conference, emphasising the need for investors to strive in support of the community of space practice for the growth of the nation's economy.
The NASRDA boss, who analysed the importance of satellite technology in the advancement of any nation, emphasized the need for pacesetter-investors to step into the space economy, to expedite the perks of the digital age for the well-being of Nigerians.
Shaba assured the delegation of the consistent approach of the agency, in its inspiring trajectory in the area of satellite technology and engineering advancement.
He explained that the agency is endowed with a crop of the intelligentsia that possesses the needed capabilities and capacity to successfully deliver all the required support required for the upcoming conference.
In his remarks, the ACCI president, Alhaji Al-Mujtaba Abubakar, expressed delight in the collaboration between both agencies, stating that the conference, will serve as a platform that will open up the potential for space exploration.
He expressed confidence in NASRDA'S highly qualified personnel to drive the conference to become an annual event that would provide support for space businesses and startups from the agency and other space actors.
The ACCI president, however, urged that a committee be set up to help drive the memorandum of understanding (MoU) between both organisations to enable speedy implementation.
Al-Mujtaba recognised the foresight of former President Olusegun Obasanjo in establishing the space agency and described NASRDA as a "legacy that will always be beneficial to the Nigerians".