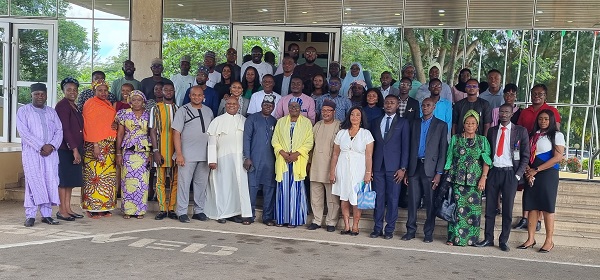 A recent report from the National Biotechnology Development Agency (NABDA) has highlighted the triple challenges of climate change, COVID-19 and crises as contributing factors to the persistent rise in undernourishment globally, with significant repercussions on developing nations, where Nigeria is prominently affected.
The report underscores that food insecurity is more prevalent among women, particularly among nursing and pregnant mothers who have direct feeding responsibilities for under-five children requiring proper nutrition for optimal brain development.
These findings were presented by the programme assistant, Abraham Isah, Open Forum on Agricultural Biotechnology (OFAB), under the NABDA auspices, during a one-day public enlightenment programme titled "Nigeria Biosafety System". This event was organised by the National Biosafety Management Agency (NBMA) in collaboration with RSA Global Investment Ltd. in Abuja.
Isah advocated for the adoption of agricultural biotechnology with a balanced perspective, underpinned by scientific evidence, transparent communication, and robust regulatory frameworks. He emphasised that these measures are essential to ensure the safe and responsible implementation of modern biotechnology and biosafety, thereby addressing the issue of food security in Nigeria.
Addressing misconceptions related to its regulatory functions concerning biotechnology products in Nigeria, the director-general of NBMA, Dr. Agnes Asagbra stressed the agency's commitment to conducting regular public enlightenment campaigns on biosafety. She emphasised that these efforts are crucial to dispel widespread misconceptions about the regulatory processes for biotechnology applications in Nigeria.
Asagbra, represented by the agency's head of planning, research and statistics department, Bello Scholastica explained, "In accordance with our NBMA Act and the Cartagena Protocol, we consider it necessary to educate the public on biosafety in general and our specific responsibilities. We are well aware that there is misleading information out there and the best source of information is the product manufacturer. Since the NBMA is the competent national authority for biosafety, it is best positioned to educate the public on this topic."
The project manager at RSA Global, Chief Noah McDickson also emphasised the significance of biotechnology in enhancing agricultural productivity and commended the timing of the public sensitisation efforts. He stated, "The public sensitisation programme is very timely, especially when it concerns biosafety, biosecurity and biological issues. It is the right time to educate and create awareness among the people. It is the agency's responsibility to disseminate vital information about biosafety to both urban and rural areas".
Furthermore, the director of communications for the Catholic Archdiocese of Abuja, Rev. Fr. Patrick Tor Harumuku highlighted the importance of embracing agricultural biotechnology to improve food security. He stressed that "this programme is crucial for enlightening all Nigerians. Our population is growing, and we face food security challenges. Biotechnology can enhance agricultural productivity and address the future needs of our nation. Ensuring food security is vital, especially as our population continues to grow."
The sensitisation programme brought together diverse stakeholders, including religious leaders, government agencies, youth associations, women's groups, farmers and NGOs, with the aim of raising awareness about biosafety and biotechnology in Nigeria.