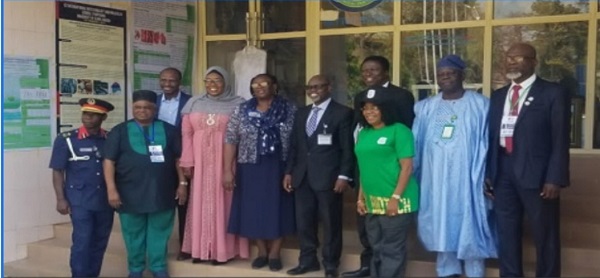 A consortium of stakeholders in the agricultural sector has issued a call to molecular scientists, urging them to tackle the persistent challenges afflicting Nigeria's agricultural industry. The group highlighted the escalating threats posed by climate change to the country's agriculture and the deteriorating state of the food sector.
This concern was voiced in a report generated from the symposium on biotechnology and molecular science development held in Kwara State.
An agricultural expert present at the report hearing, Dr. Foluke Eunice Shola-Ojo delivered a message to Nigerian youths and emerging scientists. She urged them to actively engage in research to acquire skills that can enhance livelihoods.
Shola-Ojo, who spoke during the first international symposium on biotechnology and molecular science organised by the biotechnology and molecular science committee of the faculty of agriculture, University of Ilorin, Kwara State, also chaired the local organising committee. She emphasised that involving more youth in research endeavours would foster sustainable development and growth across the nation.
The agricultural expert called upon the public to recognise the achievements of the faculty of agricultural biotechnology and molecular science in groundbreaking research, which has yielded positive outcomes to kindle students' interest in the field as aspiring scientists. The programme was designed to raise awareness about the vital role of research in sustaining livelihoods.
"The goal is to raise awareness about our work in developing countries. We want people to learn about our research results and contributions to knowledge and livelihoods," she explained.
Also present at the report meeting was Mallam Taoheed Bello, the chairman of the Kwara State Teaching Service Commission. Bello highlighted the severe impact of climate change on food production, resulting in widespread hunger and malnutrition among vulnerable populations.
Furthermore, Bello suggested that biotechnology could serve as a suitable tool to confront this challenge. He called upon scientists, investors, and the government to collectively address this challenge by taking the necessary steps in the right directions.
"The world urgently needs solutions to these existential threats," he emphasised.
During his presentation on the "Benefits of GMO Foods to Human and National Development," the director of the agricultural biotechnology department at the National Biotechnology Development Agency (NABDA), Dr. Rose Gidado pointed out that genetically modified (GM) crops have become the most rapidly adopted crops in agricultural history, now having 27 years of commercial production.
Gidado exemplified the significance of GM crops in daily human life. For instance, she explained that Golden Rice could be deployed in remote regions plagued by vitamin A deficiency. Consuming such rice, she noted, could alleviate night blindness in these areas.
Enumerating the advantages of GM crops, Gidado emphasised their potential to yield abundant and healthy food, reduce dependency on pesticides, lower productivity risks for farmers and generate greater agricultural output per unit of land to sustain a growing global population.
"Adopted by millions of farmers, many in developing nations, this technology is delivering substantial economic and environmental advantages. These include a 37 per cent reduction in chemical use, a 22 per cent increase in yields, and a 68% improvement in farm profits. Notably, GM crops such as Bt cotton and PBR Cowpea have significantly reduced instances of pesticide poisoning due to decreased applications and lower levels of insecticide exposure," explained Gidado.
The director underlined that modern plant breeding techniques, encompassing genetic engineering and genome editing, are already yielding remarkable benefits for humanity. The director asserted that modern breeding methods are revolutionising global agricultural systems, from enhanced yields to disease-resistant crops, drought-tolerant plants and nutritionally fortified crops.