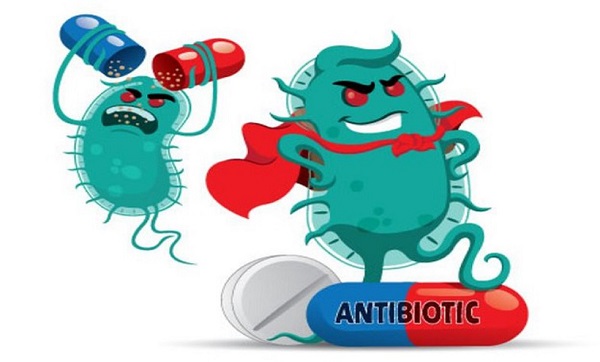 The World Health Organisation (WHO) currently revealed that antimicrobial resistance (AMR) causes 700,000 deaths a year and is projected to cause up to 10 million deaths per year by 2050.
AMR is an ongoing public health crisis and is becoming increasingly ineffective as drug resistance spreads globally, making it more difficult to treat infections and [leading to] death.
However, this issue is not confined to medical settings like hospitals, as AMR can develop and spread between humans, animals and the environment. It, therefore, requires a 'one health' transdisciplinary, multisectoral approach encompassing all levels of society to address it.
The overuse of antibiotics for trivial infections in recent years means they are becoming less effective against serious infections. People are dying from common, previously treatable infections because the bacteria that cause them have become resistant to treatment.
This is a major concern for health professionals, who are already struggling to treat antimicrobial-resistant infections, as well as its threat to the outcomes of routine medical interventions, from surgery to chemotherapy and increased risk for individuals at greater risk of infection, including pre-term infants and the elderly.
Most of the deaths from AMR were caused by lower respiratory infections, such as pneumonia and bloodstream infections, which can lead to sepsis.
MRSA was particularly deadly, while E. coli and several other bacteria were also linked to high levels of drug resistance.
The emergence of the novel coronavirus SARS-CoV-2 in 2019 and its rapid global spread has heightened the urgency of deploying better public health systems worldwide.
As Nigeria struggles to combat the current pandemic, her public health workers still seek the answer to the decades-old question: Is Nigeria prepared for the next pandemic? The odds might not be in the country's favour [if she is not].
Climate change, overpopulation and food shortages are accelerating human encroachment into previously uninhabited areas and putting people and livestock on a collision course with wildlife that harbour – and can transmit – novel diseases.
The novel pandemic has been a wake-up call. It signals the need for greater coordination and collaboration among governments, public health experts, hospital systems and communities. To achieve that partnership, many experts in the health sciences are promoting the 'one health' approach, a model centred on the idea that human health is intrinsically intertwined with that of animals, plants and our shared environments.
Nigeria considers AMR a priority on her national public health agenda. Nigeria's response to antimicrobial resistance led by the Nigeria Centre for Disease Control (NCDC) began in 2016 following a situational analysis that investigated common antimicrobial-resistant pathogens recovered from hospitals, animal sources and agricultural and environmental sources.
The NCDC also conducted systematic reviews to assess the prescribing patterns of antimicrobials in hospitals across the country. These efforts informed the development of the National Action Plan (NAP), designed with a five-year focus in mind (2017–2022).
Overall, the Nigeria NAP seeks to address five key pillars in consonance with the WHO Global Action Plan on AMR. These pillars include increasing awareness and knowledge of health workers and the general public on AMR, building a 'one health' surveillance system, intensifying infection prevention and control and biosecurity, promoting rational use of antimicrobials and access to quality medications and research into alternatives to antimicrobials, new diagnostics and therapeutics.
The health commissioner, Lagos State, Prof. Akin Abayomi, said that the importance of AMR cannot be neglected given its consequences globally, regionally, nationally and locally.
Abayomi said it was high time stakeholders walk the talk beyond the hospital antimicrobial stewardship programme.
According to him, while there has been a wide-ranging commitment to the 'one health' approach, its operationalisation and implementation can be challenging.
He stated that in a world where professions have moved to specialisation and expertise within their realm rather than in collaboration and cross-discipline, understanding the interdisciplinary and transdisciplinary approach adopted in 'one health' might be challenging.
"'One health' demands that humans, animals and environmental health sectors cross-professional, disciplinary and institutional boundaries and work in a more integrated fashion.
"Challenges to implementing 'one health' include an estimated N91billion which places Lagos State as Africa's 5th largest economy and having 2000 manufacturing companies, 200 financial institutions and the largest collection of SMEs.
"Lagos State is [one of the] fastest growing cities in the world. Lagos hosts about 65 per cent of Nigeria's business, having over in Africa. The population of Lagos is estimated at 23 million, with a population density of around 6,871 residents per square kilometre, making it the most densely populated city in Africa," he explained.
He said that these interesting statistics were accompanied by increasing health challenges.
According to him, leadership is a crucial issue in the development of the 'one health' approach. It is essential for building relationships and trust. There is a need to build a strong transdisciplinary relationship for the 'one health' approach to be successful and adequate multi-sectoral funding is needed for a successful 'one health' approach implementation.
The health commissioner called on ministries, sectors and professionals to break existing institutional and sectoral boundaries to implement the 'one health' approach.
"Stakeholders should have a clear understanding of the transdisciplinary approach to effectively function and implement 'one health' concept. Adequate infrastructure for transdisciplinary surveillance, laboratory systems and effective communication and information channels are needed for implementing a successful 'one health' approach," he advised.
The coordinator, African Health Budget Network (AHBN), Dr. Aminu Magashi, advocated for political action for the mitigation of drug-resistant infections through responsible and sustainable access to and use of antimicrobials.
Magashi, who is also a health economist expert, pointed out the need for the country to strengthen regulations for responsible and sustainable access and use of antimicrobials across human health, animal health, food, plant and environmental sectors.
He urged the Federal Government to tackle AMR as an integral part of plans and programmes addressing pandemic prevention, preparedness and response, universal health coverage, the environment, infection prevention and control and animal welfare.
Amongst others, he stressed the promotion of sustainable food systems and support programmes, policies and legislation that drive innovation and incentives for research and development of new antimicrobials.
Magashi said that the urgent global threat of AMR demanded political visibility and advocacy at all levels.
"Ignorance of AMR remains a challenge. Education, engagement of all stakeholders and clear messaging are key to raising awareness of the 'silent' pandemic.
"Only by fully implementing 'one health' approaches will the country and, indeed, humanity, effectively and sustainably prevent and respond to epidemics and achieve global health and food security," he said.
The AHBN coordinator said that understanding the complex interaction and role of different sectors is also crucial to achieving success in AMR.
"Different sectors need to work together and coordinate their efforts in a challenging social, political and economic environment.
In her comments, a 43-year- old civil servant resident in the Federal Capital Territory (FCT), Mrs Alice Yohanna, narrated how a simple surgery turned into a fight to save her hand.
"I had a simple surgery on the tendon in my left thumb. About two weeks after surgery, the incision reopened and began to drain fluid. The area was very painful. I ended up needing a second surgery because the hole opened to the tendon. The doctor from surgery came back with a methicillin-resistant staphylococcus aureus (MRSA) infection in my joint and bone," she narrated.
Yohanna said she was at risk of amputation due to the drug-resistant infection. "I had to get a peripherally inserted central catheter (PICC) line placed and received six weeks of IV antibiotics" to treat an infection which would have left her with life-long issues.
The deputy project director, risk communication, Breakthrough Action Nigeria (BA-N), Dr Umar -Farouk Olayinka, said that Nigeria needs to increase awareness of AMR and encourage best practices among the general public and health workers and policy makers to avoid the further emergence and spread of drug-resistant infections.
"All stakeholders, including healthcare professionals, civil society, policymakers, journalists, nurses, medical researchers, IT experts, veterinarians, pharma, students etc., must get involved.
"One of the most important things we can do besides reducing the overuse and misuse of antimicrobial medicines is to practice good hand hygiene," she said.
Olayinka said that the COVID-19 pandemic highlighted some important lessons around infection prevention and control (IPC), one of which was handwashing to reduce the spread of the virus.
"That same principle should be used as we tackle the spread of deadly superbugs," she added.