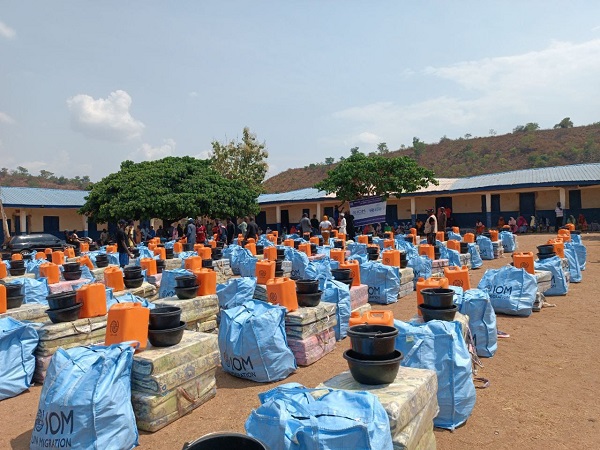 In a significant commitment to disaster response efforts, the United States government has pledged $9 million in humanitarian assistance through the U.S. Agency for International Development (USAID) to support Northeast Nigeria. This new assistance comes after a contribution of $6 million in 2022.
The aid will be coordinated in partnership with the government of Nigeria, the United Nations, and international non-governmental organisations to aid vulnerable Nigerians affected by natural disasters.
The United States Mission to Nigeria announced that the funds will be channelled through the United Nations' International Organisation for Migration (IOM). This assistance aims to provide immediate relief to those impacted by floods resulting from the ongoing rainy season across Borno, Adamawa and Yobe states. The support will encompass emergency shelter provisions, water and sanitation services, psychosocial assistance, and cash support. Furthermore, the funds will extend critical, life-saving aid to individuals affected by other natural disasters such as fires or climate-related shocks.
This new commitment follows the U.S. Government's efforts in 2022, where $6 million was provided to aid individuals affected by devastating floods. This assistance was allocated as follows: $1.75 million to the International Federation of the Red Cross and the Red Crescent Societies in collaboration with the Nigerian Red Cross Society; $2.5 million to the International Organisation for Migration; and $1.75 million divided among Save the Children, FHI360 and Intersos. These organisations efficiently utilised the funding to provide critical aid to over 225,000 people in seven severely affected states. The aid included essentials like emergency shelter repair kits, water and sanitation purification tablets, hygiene kits and multipurpose cash to facilitate recovery.
Due to escalating climate change impacts, Nigeria experienced its worst flooding in more than a decade in 2022. This led to 4.4 million individuals being affected, over 2.4 million being displaced, and a tragic loss of over 600 lives. The Nigeria Meteorological Agency (NiMet)'s 2023 seasonal rainfall prediction warned of an earlier-than-usual onset of rainfall, posing a risk to 4.2 million people from flood-related effects. Consequently, the new $9 million U.S. Government aid will fortify community preparedness and enhance the resilience of vulnerable communities in the face of natural disasters.
USAID Mission director, Dr. Anne Patterson emphasised, "The United States will continue to stand with the people of Nigeria to mitigate the effects of climate change and address the impacts of more frequent natural disasters. We have a long history of providing humanitarian assistance across the country".
A senior media and public affairs specialist at the U.S. Department of State, U.S. Embassy Abuja, Nigeria, Aishah Gambari highlighted that from 2021 to 2022, the United States had already allocated over $356 million in essential, multi-sector assistance to those most affected by conflict and food insecurity.
This reaffirms the U.S. Government's ongoing commitment to supporting Nigeria during times of crisis and reinforcing the nation's resilience in the face of mounting challenges.