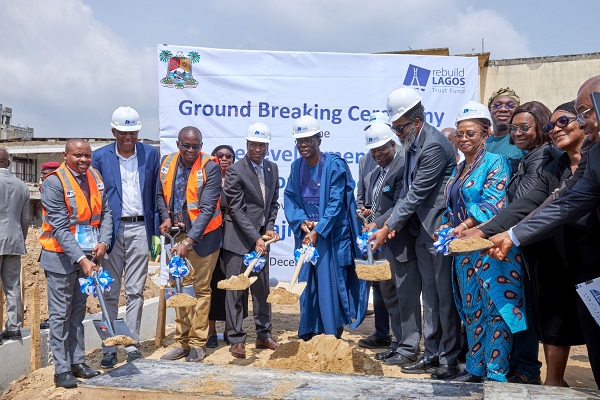 A non-profit, public-private partnership (PPP), Rebuild Lagos Trust Fund (RLTF) LTD/GTE, has continued to advance its mandate to facilitate a resilient and sustainable Lagos, with its decision to redevelop the High Court, Igbosere, Lagos.
During the ground-breaking ceremony for the High Court, Igbosere – one of its projects – the organisation revealed its phased redevelopment efforts to transform the old colonial structure into a modern facility that technologically amplifies the structure while preserving the court's legacies and traditions.
At the programme, the governor of Lagos State, Mr. Babajide Sanwo-Olu in the presence of the deputy governor, Dr. Kadri Obafemi Hamzat; the Chief Judge of Lagos State, Justice Kazeem Alogba and the attorney general and commissioner for justice, Hon. Justice Moyosore Onigbanjo (SAN), said the decision to rebuild the High Court, Igbosere, affirmed the state's commitment to rehabilitating destroyed monuments, "with unrelenting efforts that will continue to see Lagos uphold its status as one of the world's leading global cities, a topmost commercial nerve centre on the African continent and its citizenry's sustained as well as beloved Centre of Excellence".
The governor further called for support for RLTF's fundraising efforts of the NGN42 billion required to complete the rebuilding of the oldest and most recognisable court building in the land. The project, he emphasised, is aimed at meeting the global SDG 16 of justice for all through strong institutions and SDG 10 for reducing inequalities.
According to the fund's chairman, Dr. Yemi Cardoso, the project is one of six others identified for redevelopment. "Among the six pioneer projects identified by the fund, High Court Igbosere holds historical significance to Lagos as a state, and Nigeria as a country. It is a source of heritage pride, hence the dedication to its redevelopment. The priority is to rebuild the old court structure, upgrade it to a state-of-the-art facility and restore the artefacts that are signatures of its history".
A statement by the fund's chief executive officer and project director, Engr. Olujimi Hotonu said; "Post the ground-breaking ceremony, the High Court, Igbosere project will be implemented in two phases. The first is the restoration of the old court structure.  The second is the building of a multi-storey and multi-purpose structure backed by digital technology to resolve administrative and space constraints that will feature additional office spaces, courtrooms, parking spaces, as well as giving room to future expansion".