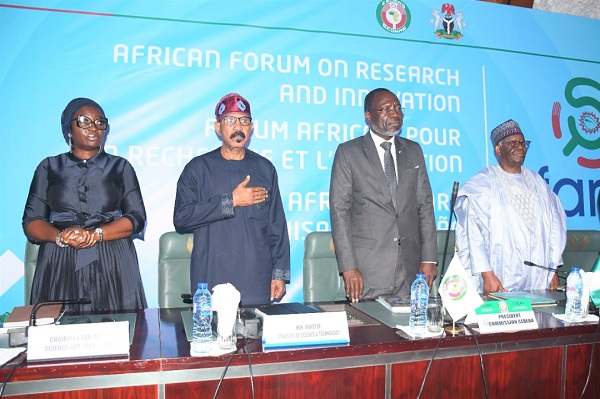 The president of the Economic Community of West African States (ECOWAS), Dr. Omar Touray has disclosed that Science, Technology and Innovation (STI) play the lead role in the social economy and cultural development in Africa.
Touray made this statement during the opening ceremony of the first ever Africa Research and Innovation Forum (FARI) organised by the commission in collaboration with the Nigerian government, through the Federal Ministry of Science, Technology and Innovation (FMSTI) in Abuja, themed "Science Technology and Innovation for a Completive ECOWAS" which will produce the needed actions for ECOWAS to have a vibrant STI to drive development and competitiveness.
"ECOWAS has always considered STI as a key area for social economy and cultural development of its member state.
"The crucial role of research and innovation is transforming regional economy and responding to global economics.
"FARI is part of the vision of ECOWAS' vision 2050. Africa needs to expand its knowledge and skills in STI and building human capital in STI is key for our region. Also, it will provide a reference for policymakers.
"ECOWAS has a research and innovation support programme which provides a grant of $400 every year for regional research programmes to aid researchers," he said.
Earlier in his opening speech, President Muhammadu Buhari, represented by his Chief of Staff, Prof. Ibrahim Gambari said: "In line with the mandate of the scheduled plan of action of the STI for the ECOWAS region, there is the need for researchers to acquire modern and state-of-the-art equipment and materials, thereby strengthening the capacity of the region to catalyse regional cooperation and regional integration through policy harmonisation, advocacy, trade liberalization and trade facilitation in all sectors of the STI ecosystem.
"STI is recognised as the driver of Nigeria's National Development Plan (2021-2025). The utilisation and promotion of innovative applications with other socio-economic development indicators will lead to the rapid industrialisation of the region. Provision of definitive functions for highly qualified professionals, thereby addressing seriously the major challenges such as poverty eradication, food security, climate change, access to energy, access to the possibility of the eradication of endemic diseases and the management and preservation of the environment among others.
"Nigeria has taken steps to ensure that its youthful population is given the appropriate environment to achieve their dreams in innovation by passing legislation that governs and provides a level playing field via the Nigerian Start-up Bill which has been passed by our National Assembly. I look forward to assenting to the landmark piece of legislation as a critical building block for energising our innovation landscape."
In his address, the Minister of Science, Technology and Innovation, Sen. Adeleke Mamora said the advancement of science and technology continues to change the base of the human race as discoveries and innovation give out evolve. Our region cannot be left out.
"The forum aims to contribute to the economic transformation of the West African region's competitiveness in research and development," he added.