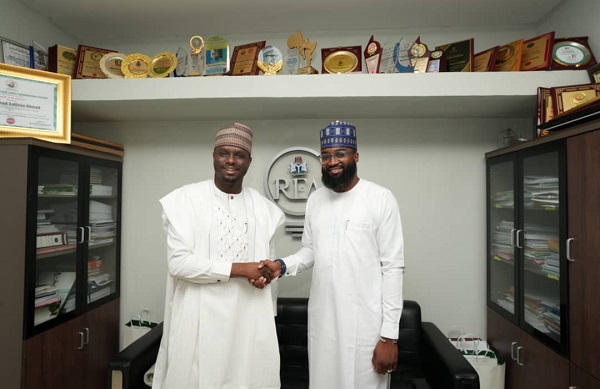 In a significant move towards advancing rural electrification in Nigeria, the National Agency for Science and Engineering Infrastructure (NASENI) and the Rural Electrification Agency (REA) have agreed to collaborate on deploying NASENI's solar resources and other renewable energy technologies to increase electricity supply in rural areas.
The commitment was made by the executive vice chairman of NASENI, Mr. Khalil Halilu and managing director of the REA, Mr. Ahmad Salihijo Ahmad during a meeting over the weekend in Abuja.
Halilu, who assumed his role at NASENI two weeks ago, expressed his determination to foster effective collaborations with key stakeholders to fulfill NASENI's mandate of providing the science and engineering infrastructure necessary for Nigeria's businesses and economy to flourish.
Halilu stated, "The strategy, going forward, for NASENI includes knocking on the doors of potential end-users of the agency's technology and engineering products, making off-take of our research and development (R&D) easier, while also bringing the direct impact of our work to bear on the Nigerian economy".
The two chief executives have pledged to work together to reduce the cost of solar power installation in rural areas, including efforts to increase local production of solar panels by NASENI. This partnership aligns with the Federal Government's objective to expedite the electrification of Nigeria's rural regions.
Earlier in the day, Halilu visited the director-general of the National Information Technology Development Agency (NITDA), Mallam Kashifu Abdullahi on a similar mission. Both CEOs emphasised the importance of developing local content capacity, both in terms of human resources and materials, to boost economic transformation.
During the meeting, Halilu sought to leverage the existing relationship between himself and the NITDA boss, as well as between their respective organisations, to exchange experiences and best practices in management and resource optimisation.
Abdullahi shared that NITDA's strategy, focusing on changing the mindsets and skill sets of its staff, has helped the agency achieve up to 62 per cent of its goals and objectives within two years, ahead of its projected four-year timeline. He emphasised that a well-defined strategic plan and clarity of vision and goals would also be beneficial for NASENI's success.
This collaboration between NASENI and REA marks a crucial step towards leveraging renewable energy technologies to improve electricity access in Nigeria's rural areas, ultimately fostering economic development and growth in these regions.