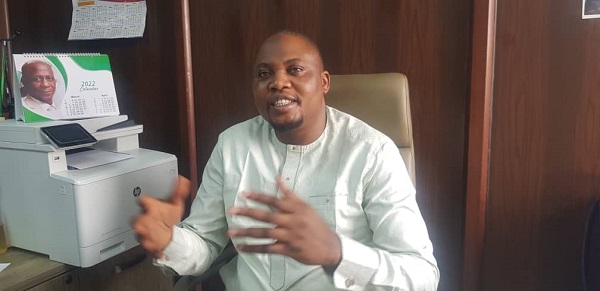 Nigeria recently joined 15 other African countries in the Science Granting Council (SGC) Initiative in Sub-Saharan Africa. In this exclusive interview with Dr. Mustapha Popoola, the coordinator of the initiative in Nigeria and the technical assistant on research and development matters to the executive secretary of the Tertiary Education Trust Fund (TETFUND) – where the grant initiative is domiciled – he speaks on Nigeria's reason for joining the initiative and the need for Africa to prioritise her research development for the development of the continent.
Nigeria is the latest country to join the Science Granting Council (SGC) Initiative. What prompted that move?
For us, we believe that, as part of the paradigm at TETFUND, the issue of working in silos is one we want to do away with, given how much it has affected the country. In a situation where departments, faculties and institutions are not working together, how will the country work together? When you are talking about science, technology and innovation, it is not localised; it is globalised and Nigeria cannot say she is not a part of the global village.
There is a need for us to work with other countries in a coordinated manner. The SGCI is in 15 countries; this was a major justification and a driving factor for us to join the SCI. Now, funders and partners from international development associations want to leverage a situation and platform to know what is going on in each of these countries. It is going to be a good thing for the country to have a basis to benchmark what she is doing and, at the same time, share notes with all other member countries as part of the partnership. This will ensure the proper deployment of international resources and help us leverage the skills and experience of other countries and share notes through a peer-to-peer learning mechanism.
It is high-time Nigeria work with other African countries to promote African partnership. At the end of the day, this will bring about pan-African development and goals.
Science is always neglected in developing countries like Nigeria. How do you think these grants can help research into science, especially in Nigeria?
Well, science is neglected because of our lack of understanding as a people and a continent. You cannot talk about development without growth and what triggers growth is scientific innovations and technological developments.
Now, we are talking about entrepreneurship development which is more or less a copy-and-paste idea because that is where the global community is, ready to leverage on systems and economies. But how can SMEs grow sustainably without research and development?
Before now, a lot of people believed nothing could be done around science because it is beyond what people know. Everything you are doing in your house daily is science, including the clothes we wear. If we continue to neglect science, we neglect our lives and that is not the way to go.
At TETFUND, the essence of the new paradigm is to look at how we can contribute to the socio-economic development of the country, leveraging our circle of influence which is TETFUND and the kind of interventions we provide in our tertiary institutions. So far, we have 13 interventions and we want to front-load the institutionalisation of research and development because that is the one that will lead to innovation and enterprise development and we can start talking about migrating from [being] a resource-based to a knowledge-based economy. If we cannot do that as a nation, we are not ready and should forget about growth or development as a nation. The baseline or general matrix to measure the development of any country is the GDP but, if you are not innovative about what product you are going to commercialise, nobody will buy it, we live in a globalised village.
The new thinking in TETFUND is to make sure we leverage our research and development in the tertiary institution space to inform the new policies of government to support our socio-economic development and build a strategy and framework for innovation systems that can sustain our knowledge economy base in the country.
So, we cannot be a resource-based economy without value addition. That is why we are saying we need to share notes with all other people on the Science Grant Initiative (SGI) and see what is going on in other economies, so we can develop together.
The SGI has been able to pool 16 African countries together. How will this impact Africa wholly, given that most countries on the continent still work in silos?
When African countries work together as a block, we have peculiarities. We can't use a solution developed in America 100 per cent for an American problem to solve a particular problem in Africa that is peculiar. We don't share the same weather, biodiversity, thinking, culture and national priorities. If we do not start building our systems within Africa then how do we network or negotiate with the international community? Many African countries are disadvantaged because they go to individually negotiate deals and investments with western countries that know better.
By the time they aggregate what you are bringing to the table, it is usually insignificant. As a group of 15 to18 African countries, however, we can work together to present our priorities on the continent in terms of R&D. We can set the agenda and, by the time we know what works for us, our people will start benefitting. This approach does not benefit just Nigeria; it helps us create internal solutions that work for Africa.
If we take this route, we can moderate the way things are done, so that we don't keep tabs on billions of euros and dollars spent on R&D in Africa, whereas the impact and output only benefit the Western world and not Africa
In terms of implementation of this initiative, when Nigeria rolls out her projects which organizations and stakeholders are we looking at to make it a success?
We are clear about our strategy and can say that we have adopted the triple helix model. Our major stakeholders will be the government at all levels – international, continental, national and sub-national. Also, we are looking at the industry/private sector – SMEs, industrialists, business people, growing concerns on one part – and the academia.
In academia, we look at all the structures. In the case of Nigerian tertiary space, we have polytechnics, universities, colleges of education and everybody working together as partners to solve people's problems. This approach is people-centric, as all research, development and enterprise should be. These are the stakeholders we are focused on.