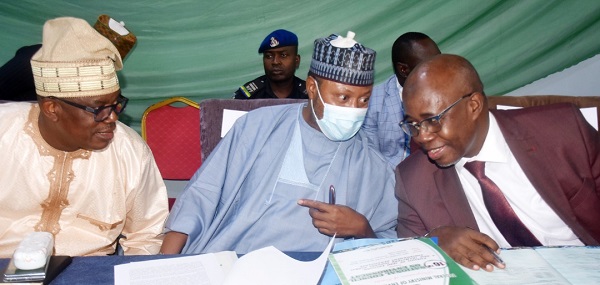 The Minister of Environment, Barr. Mohammed Abdullahi, has said Nigeria's ambitious efforts towards zero emission are on course, stressing the country is promoting and embarking on climate-positive and nature-positive investments.
Speaking during the 16 National Council on Environment (NCE) themed "Pursuit of Zero Emission: A Trajectory Towards Global Environment Renaissance" in Abuja, Abdullahi said this is to enhance adaptive capacity and build resilience of the ecosystems while improving the livelihoods of the local communities and indigenous people.
The minister, who lauded the theme of the council, touted low carbon emission as an indispensable option in Nigeria's journey to net zero emissions.
"As you are aware, climate change poses serious threats to nature and our existence. Human activities and naturally-occurring emergencies have exacerbated the impact of this global phenomenon in recent years. We are appalled by the various scientific reports which have called for urgent remedial actions. The impact of global warming occasioned by deforestation, desertification, biodiversity loss, climate change, COVID-19 pandemic and other environmental and social factors have left their negative tolls on both the terrestrial and aquatic systems, with dire consequences on our planet and humans.
"We are persuaded by the reality of the imperatives to pursue a low-carbon emission trajectory as an indispensable option to preserve the health of the planet as we journey to net-zero emission," he said.
Listing government's ambitious efforts to nip the challenge of emissions in the bud, he stated that with funding from the annual appropriation, sovereign green bond, private sector, more than 20 million hectares of land have been planted by the ministry under the National Afforestation/Reforestation programme targeting degraded forest reserves, degraded landscapes and vulnerable ecosystems across all the ecological zones of the country. While more than 24,000 hectares of degraded lands and erosion sites have been reclaimed or mitigated with the support of development partners.
Abdullahi further said that in the area of climate change adaptation, a National Adaptation Communication (ADCOM) document which provides a mechanism for Nigeria to report "priorities, implementation and support needs, plans and actions has been developed in addition to a National Adaptation Plan Framework to help with adaptation planning and governance.
"Giant strides have been recorded in the strengthening of the policy and legal framework. The key milestone being the signing into law by Mr. President in November 2021, the Climate Change Act. The Act will go a long way in catalysing the realisation of the country's climate ambitions and commitments including contribution to zero emission. It is important to point out that the Act, among others, provides for the establishment of the National Council on Climate Change and empowered to make policy and decisions on all matters related to climate change in Nigeria," he added.
In his address, the Minister of the Federal Capital Territory (FCT), Mr. Mohammed Bello, represented by the permanent secretary, Mr. Olusola Olasade said the FCT Administration will continue to plant trees and encourage residents to do same across the Territory. However, its long-term strategy is the use of electric vehicles for public transportation.
Earlier in his goodwill message, the representative and regional director, United Nations Industrial Development Organisation (UNIDO) Regional Office, Dr. Jean Bakale emphasised the need for Nigeria to decarbonise to reduce GHG generation.
According to him, the solution to the rising status of carbon dioxide "is to redirect our goals towards decarbonising and drastically reduce greenhouse gas generation in Nigeria and the world at large."
Represented by Osuji Otu, Bakale said achieving a Net-zero emissions status has become a new ambition of every developed, developing and forward-thinking country in the world as its continuous experience increases climate change.
"Today, the sea levels are rising with frequent flooding that is destroying lives and properties worth several millions of dollars, global temperature is rising and wildfires are rampant, food security is greatly affected as farmers are increasingly finding it difficult to predict planting seasons, insecurity is on the increase, affecting food production (eg. in the Lake Chad region) and threatening livelihoods of rural communities and lots more.
"Climate change and the unimaginable are beginning to happen. With all these and more, the solution is to decarbonise and drastically reduce greenhouse gas generation."
In his contribution, the Food and Agriculture Organisation (FAO) representative in Nigeria, Mr. Fred Rafeero opined that the NEC theme is a call for action to achieving net-zero GHG emission and energy transition for Nigeria.
"I want to use this occasion, therefore, to congratulate the Federal Ministry of Environment for the signing into law of the Climate Change Act by the Nigerian president, Muhammadu Buhari. The Climate Change Act has come at an opportune time and will be necessary for the attainment of the county's commitment to achieving environmental sustainability goals," he said.
Represented by the Assistance FAO representative: (Programme), Abubakar Suleiman said the vision of Federal Government aligns with FAO global efforts in supporting its member countries in their efforts to climate change adaptation and mitigation, working towards climate-resilient and low-emission agri-food systems.
"FAO as part of its mandate is presently supporting the Ministry in mobilising resources from the global climate finance (GCF) institutions, global environment facility (GEF), the adaptation funds and UK PACT programme to support implementation of the Nigeria nationally determined contributions (NDCs)
"FAO Nigeria through its programmes and projects has been able to support in strengthening capacities of government counterparts to better respond to climate change challenges including the ability to generate, collect, analyse and utilise data and information for climate action; better access to financial resources for climate change adaptation and mitigation; adoption of good practices and innovative solutions to climate resilience, adaptation and mitigation; mainstreaming of climate change considerations in national and subnational policies and strategies," he added.