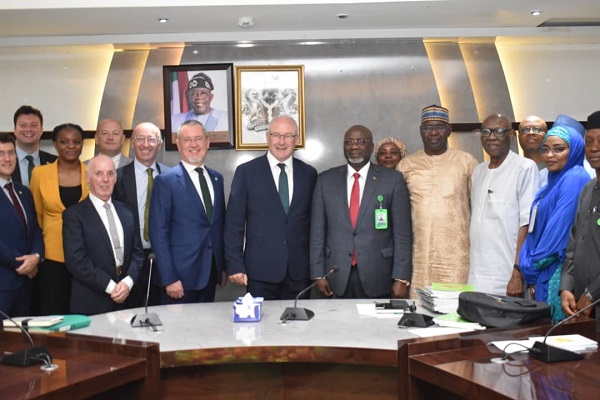 The permanent secretary of the Federal Ministry of Agriculture and Food Security, Dr. Ernest Umakhihe has called for the enhancement of bilateral relations with the Irish government in the field of agriculture.
The aim is to bolster food and nutrition security in Nigeria.
Umakhihe made this appeal during a courtesy visit to his office by a delegation from Ireland's Ministry for Agriculture, Food and Marine. The Irish delegation, led by its secretary-general, Mr. Brendan Gleeson discussed opportunities for collaboration in agriculture between the two nations.
The permanent secretary highlighted the significant role of agriculture in Nigeria's economy and emphasised the importance of fostering a strong working relationship with Ireland to boost trade and investment in the agricultural sector.
He noted that President Bola Tinubu recently declared a state of emergency on agriculture and food security. The government is committed to implementing programmes and policies aimed at enhancing food security, creating jobs, and eradicating poverty.
Umakhihe pointed out that Nigeria, as the most populous country in Africa, possesses arable land suitable for the development of various agricultural value chains. The nation has a track record of success in the production of grains, horticultural products, livestock and more.
Recognising Ireland's achievements in the production of milk, wheat, beef, potatoes, poultry and other agricultural products, Umakhihe expressed Nigeria's readiness to collaborate to achieve food and nutrition security and sustainability.
He proposed the establishment of a joint Technical Committee comprising members from both countries to fine-tune the discussed issues and explore opportunities for collaboration.
In response, the secretary-general of Ireland's Ministry of Agriculture, Food and Marine, Brendan Gleeson highlighted the common interest of both nations in achieving food security for mutual benefits.
"We are here to build a strong relationship that would make a significant impact on both countries," Gleeson stated.
He acknowledged the challenges Nigeria faces and stressed the importance of research, continuous education and advice to farmers to address them. Gleeson expressed his anticipation of a stronger bilateral relationship that would enhance food and nutrition security for both countries.
The Ambassador of Ireland to Nigeria, His Excellency Peter Ryan, emphasised Ireland's food security and its commitment to maintaining it. He pointed out that Nigeria needed to work on aspects such as research and development, capacity-building, cattle breeding and food marketing to achieve similar food security levels.
The meeting between the Nigerian and Irish officials explored potential areas of cooperation and collaboration to strengthen the agricultural sector in both countries and improve food and nutrition security.