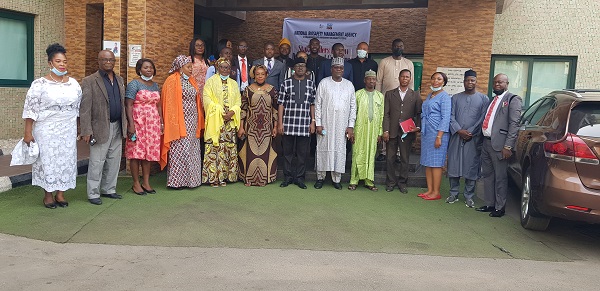 The National Biosafety Management Agency (NBMA) and other stakeholders in the biosafety sector convened in Abuja today (February 9) to review the draft national guidelines on genetically modified (GM) plants with stacked genes.
In his opening remarks, the NBMA director-general, Dr. Rufus Ebegba, explained that the agency used its existing guidelines to look at genes that are stacked in the past, saying there is a need to separate stacked products – products that have more than one gene of insert – to give special consideration to them.
"We are looking at it from the path that genes have interactions when two genes are inserted into one organism, there are interactions within themselves and also within the existing genes within the organism, we want to properly understand that so that we will know if there are manifestations that could be harmful to man and the environment.
"This is a part of modern biotechnology application that requires regulation as well. We need to regulate them because when you insert more than one gene into an organism there is the likelihood of both genes interacting harmfully with the environment, humans or the plant itself, to change the composition of the plant.
"Genes have interrelationships and can perform more than one function. The essence is to ensure that the performance of these genes does not have any negative manifestation, toxin, crop nature as well," he said.
The NBMA boss posited that the guideline will give stakeholders a better understanding of what needs to be done, particularly developers of genetically modified products.
"They need to understand [that] this needs to be put in black and white so that there will be no arguments when we come up with matters of regulation," he stated.
Ebegba clarified that NBMA was not established to stop GMOs but to make them safe for economic benefits to enhance environmental sustainability, to serve the good of the people and to encourage scientists to come up with new products for Nigeria's socio-economic development.
In his goodwill message, the country coordinator, Programme for Biosafety Systems (PBS), Dr. Mathew Dore, pointed out that the job of stakeholders have been well cut out for the review, stressing that technology defines man and offers man the opportunity to look at the past, present and the future.
"We have been putting the document for stacked genes together for some time. Hopefully, we will make progress and share the progress we make with other stakeholders, so that as is the usual Nigeria tradition, spearheaded by NBMA we can have a document that we shall be proud of, one that can stand the test of time.
"The DG alluded to research. There's a lot of work that can be done and, when these tools come up, we have to get our hands on them, master them and put in legal and administrative frameworks to make sure that society benefits from them.
"PBS is involved in the process. We support technically, share our expertise with NBMA and other national stakeholders, and stand by to assist NBMA in any technical way possible so we can have the success we expect at the end of the day," he stated.
In her presentation, a principal scientific officer with NBMA, Joy Onwude, said the objectives of the review are to share the draft guidelines, seek input from stakeholders, correct errors, capture omissions, to enable robust and complete, accurate and credible guidelines as well as to produce world-class guidelines capable of serving as a model for other African Union (AU) member states.