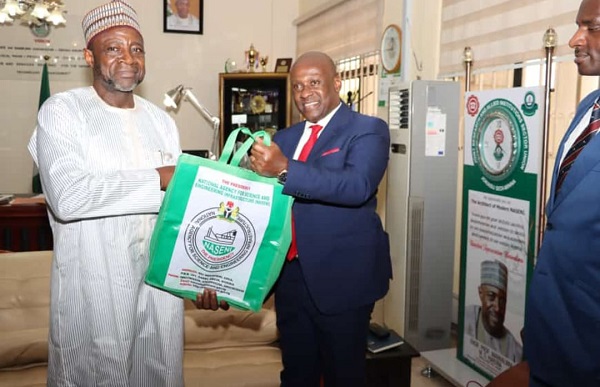 The National Agency for Science and Engineering Infrastructure (NASENI) has entered into a partnership with the Ugandan Embassy in Nigeria for a bilateral strategic partnership on technology transfer, agro-processing, renewable energy, amongst others.
The executive vice chairman of NASENI, Prof. Mohammed Haruna made this known when he received Uganda's High Commissioner to Nigeria, Ambassador Nelson Ocheger who paid a courtesy call to his office in Abuja.
Haruna, who said the partnership aims to develop Africa using science and technology, underscored the need for African countries to look inwards in the development of the region using science, technology and innovation.
Receiving the delegation in his office after a tour of the agency's facilities, Haruna said the time had come for African leaders to look inward and to work together with fellow African countries to develop the continent using their local resources, technology, human capital, including patronage of goods and services produced within the continent. "Benefiting from each other's advancements in technology and innovation is what will take Africa to where we want to be. Other continents do not want us to surpass them because we are their markets."
Haruna reinstated his belief that the founding fathers of NASENI saw halted over-dependence on other continents for technology, goods and services; that was why they set up the agency in the first instance. "All it takes to develop the African region is to work by agreements and to embark on strategic partnership with other countries within the continent."
While presenting the achievements and interventions by the agency in power, agriculture, education, industries etc, he reiterated that the mandate of NASENI is to establish and nurture an appropriate and dynamic science and engineering infrastructure for achieving home-initiated and home-sustained industrialisation through the development of relevant processes, capital goods and equipment necessary for job creation, national economic well-being and progress.
Represented by the Charge d'affairs of that country's high commission, Brig-Gen Herbert Mbonye, Ocheger said their mission in NASENI was to identify possible areas of collaboration with the Nigerian government in technology transfer, renewable energy, agro-processing, capacity building, oil and gas and education amongst others.
He said the only way to achieve such cooperation was by signing a memorandum of understanding (MoU) with the Federal Government through NASENI which, according to him, has a similar mandate to the Uganda Research and Development Institute (UREI) to ensure the transfer of the appropriate technology for the development of the continent.
According to him, Uganda has taken time to diversify her economy, especially in agro-processing, triggering the agriculture sector to contribute over 85 percent to Uganda's GDP. "We are number one in food processing in Africa and number three globally," he explained. "However, we may be in research and development, but technology on its own may end up on shelves. We need capacity-building in utilising these technologies. We Africans have a long way to go but inter-African cooperation is the way forward. The Western world has no interest in sharing their technologies and ideas with Africans; they only show off success. We must work together to strengthen our economies," he said.
A statement by the agency's deputy director, information, Mr. Olusegun Ayeoyenikan, said while commending NASENI's achievements, Ocheger pointed out that the NASENI could leverage the 3, 200 Nigerian students currently studying in Uganda to create an internship cooperation where NASENI sends staff to Uganda and vice-versa for knowledge-sharing.