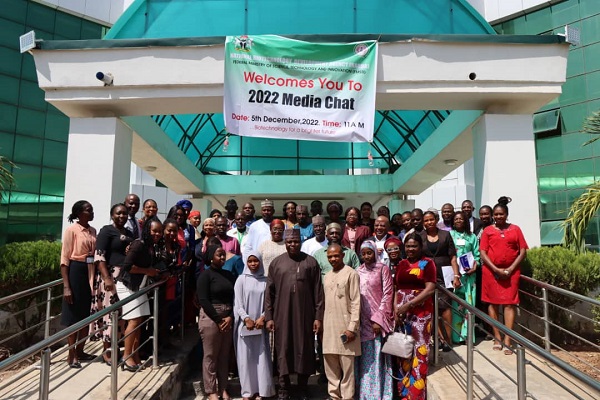 The National Biotechnology Development Agency (NABDA) has established a bioenergy development programme designed for waste-to-energy generation, where biodegradable organic waste streams are converted to biogas for heating, lighting, electricity generation and bio fertiliser for commercialisation in the economy.
The director-general of NABDA, Prof. Abdullahi Mustapha disclosed this during a media chat held at the agency's headquarters today (December 5, 2022) in Abuja.
According to him, the biogas, bioorganic fertiliser and clean water technology for Nigerians is for commercialisation to boost the economy's income.
"To enhance mass adoption and sustainability of this technology in Nigeria, the bioenergy project team of the environmental development modular and portable biodigester system is highly optimised to enhance process efficiency. The biodigester which is available in different sizes was conceived, developed, fabricated and patented with many materials sourced locally.
"With the epileptic power supply being experienced across the country, households can acquire small units of biodigesters for use with a reasonable amount of electricity generation for small, domestic appliances.
"The patented biodigester is ready for c commercialisation and interested stakeholders are welcome to enhance country-wide mass adoption," he said.
Recall that the NABDA Act was signed into law and the passage of the act means Nigeria now has a legal framework that regulates research and development activities in the field of biotechnology as well as governs the business ventures of bioentrepreneurs.
Mustapha said that the effort of NABDA to drive national development through partnerships is yielding desirable results, one of which is the recent grant the agency got from the Rural Electrification Agency (REA).
"The project in NABDA that is worthy of note is the genetic transformation of livestock through artificial insemination for milk and meat improvement.
"This is part of our contribution to increasing livestock quality and productivity through biotechnology, as this can help to alleviate poverty and hunger, reduce the threats of diseases and ensure environmental sustainability in Nigeria.
"For the project, 259 cows were identified and 152 were successfully inseminated. While we wait for the first generation this year, we are targeting 2,500 cows next year across the country.
"NABDA is poised to make this initiative a success story, such that the genetic transformation of our local livestock will produce an improved variety of livestock capable of producing 15 litres of milk per cow daily," Mustapha said.
He disclosed that the uttermost commitment of NABDA is to harness biotechnology solutions for sustainable national development.
"This commitment is yielding significant fruits, particularly at the grassroots where there is a growing appreciation of biotechnology's capabilities to enhance food security and improve livelihood.
"Our sensitisation interventions at the grassroots, aimed at democratising knowledge and access to innovative biotechnology solutions are revolutionising the farm practices of smallholders in the six geopolitical zones of Nigeria."
Mustapha explained that ground breaking research enterprises are not merely extending the vistas of academic knowledge, but creating opportunities for industrial development and revenue generation.
"Recently, NABDA signed a memorandum of agreement with RAHAD Industries and Mesencell Biotechnology. This development has enhanced Nigeria's preparedness to roll out regenerative medicine. Very soon, Nigerians will be able to cross top-notch, stem-cell, technology-based treatment in the country.
"As part of efforts to eradicate Lassa fever diseases in Nigeria, NABDA, in collaboration with stakeholders, identified three drugs to be re-positioned and repurposed for the treatment and eradication of Lassa fever. The drugs would address the challenges faced in treating patients diagnosed with Lassa fever ailments," he said.
He disclosed that some of the challenges confronting Nigeria are misinformation, disinformation and fake news. "Purveyors of fake news and misinformation," he said, "tend to undermine the salutary contribution of science, technology and innovation to national development".