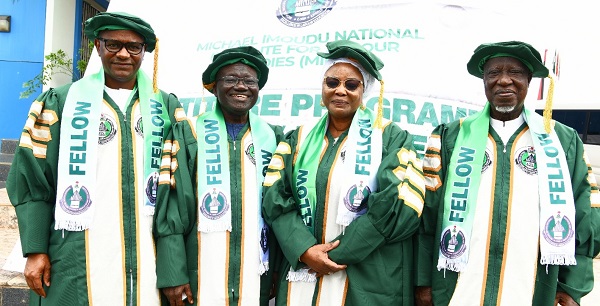 The Michael Imoudu National Institute of Labour Studies (MINILS) has honoured the executive vice chairman of the Nigerian Communications Commission (NCC), Prof. Umar Danbatta with the prestigious Fellowship of the Nigeria Institute of Labour (NIL), which operates under the Federal Ministry of Labour and Employment.
The conferment ceremony took place in Abuja as part of the series of events celebrating the 40th anniversary/Founder's Day of the institute. During the ceremony, the director-general of MINILS, Isa Aremu highlighted Danbatta's exceptional contributions, along with those of his team, in advancing the NCC and improving the national workforce.
In addition to Danbatta, the director of human capital and administration at the commission, Usman Malah who has played a pivotal role in enhancing the workforce at NCC, was also awarded a fellowship.
Representing Danbatta at the event, Malah emphasised the importance of collectively supporting initiatives that enhance the well-being of Nigerian workers by providing them with increased access to affordable telecom services. He stressed that a digitally skilled and informed workforce is crucial for Nigeria to accelerate national productivity and development, in conjunction with other government initiatives.
Danbatta pledged the commission's commitment to ensuring affordable and widespread telecom services to enhance the daily activities of Nigerian workers. He expressed his gratitude for the recognition and promised to continue supporting the empowerment of NCC staff by improving their skills, education and capacity-building efforts. He also reiterated the commission's dedication to stimulating the deployment of robust broadband infrastructure to create jobs and enhance national productivity.
Meanwhile, MINILS DG Isa Aremu commended the commission for promoting the deployment of telecommunications services to improve productivity and efficiency across various sectors of the economy. He acknowledged the significant transformation achieved in terms of broadband penetration, internet subscribers, and other accomplishments under Danbatta's leadership at the NCC.
Aremu highlighted Danbatta's role in advancing Nigeria's digital landscape and creating employment opportunities in the telecommunications sector, recognising that his efforts have earned accolades nationwide.
The anniversary celebration included the conferral of the Fellowship of NIL on other Chief Executives and Heads of Human Resources divisions from several government agencies, in addition to the NCC Management executives. This event not only commemorated past achievements but also set the stage for a brighter future, emphasising the importance of equitable labour practices, knowledge-sharing and ongoing collaboration among various government agencies.
Besides his recent conferment by the MINILS, Danbatta is also a Fellow of the Nigerian Society of Engineers, the Renewable and Alternative Energy Society, the Nigerian Academy of Engineering and the Nigerian Institute of Electrical and Electronic Engineers.