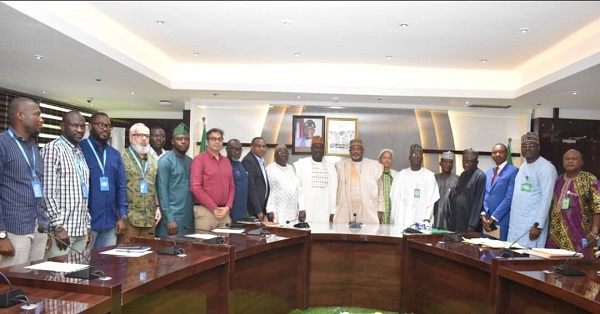 In a concerted effort to combat the food security crisis, the Minister of Agriculture and Food Security, Sen. Abubakar Kyari has inaugurated two vital committees – the logistics and blending committees – to devise strategies for utilising the recently donated 33,000 metric tonnes of granular potash raw materials.
The ultimate goal is to distribute the finished fertiliser products to smallholder farmers, thereby bolstering food and nutrition security in Nigeria.
The inauguration ceremony, which recently took place at the minister's office in Abuja, highlighted the government's commitment to addressing the food security emergency and revitalising the nation's food industry.
"We will not rest until we clear the cloud of high food prices hanging over Nigeria's skies," Kyari emphasised. He reiterated that President Ahmed Bola Tinubu has entrusted him and his colleagues with the mission of tackling this issue and they are fully determined to deliver results.
The minister proclaimed that Nigeria's agricultural sector was ushering in a new era. Under his leadership, the ministry is poised to harness all available resources to usher in a period of renewed hope for all Nigerians.
Kyari elucidated that farmers require NPK fertiliser, which is produced through a blending process involving urea, limestone granules (LSG), diammonium phosphate (DAP) and muriate of potash (MOP). While two of the raw materials, urea and limestone are available locally, others are imported, with DAP originating from Morocco and potash from Europe.
He expressed profound gratitude for the generous support received from international partners, acknowledging Vice President Kashim Shettima's pivotal role in coordinating this assistance on behalf of Tinubu.
Kyari urged committee members to ensure the proper receipt and effective utilisation of the donated materials to improve the living conditions of the Nigerian populace.
In his remarks, the Minister of State for Agriculture and Food Security, Sen. Aliyu Abdullahi commended the committee members and underscored that the meeting was a follow-up to discussions held at the vice-president's office.
He highlighted the importance of the president's eight-point agenda, one of which aims to eradicate poverty through the agricultural sector's transformative potential. Abdullahi thus charged critical stakeholders to redefine and reposition the agricultural sector for tangible results.
In her statement, the technical adviser on sustainability from the Office of the Vice President, Ms. Marion Moon expressed readiness to support the ministers in achieving their objectives and addressing Nigeria's food security challenges.
The two sub-committees, comprising members drawn from both the public and private sectors, have been established to oversee the upstream and downstream processes essential for achieving the government's overarching objectives.