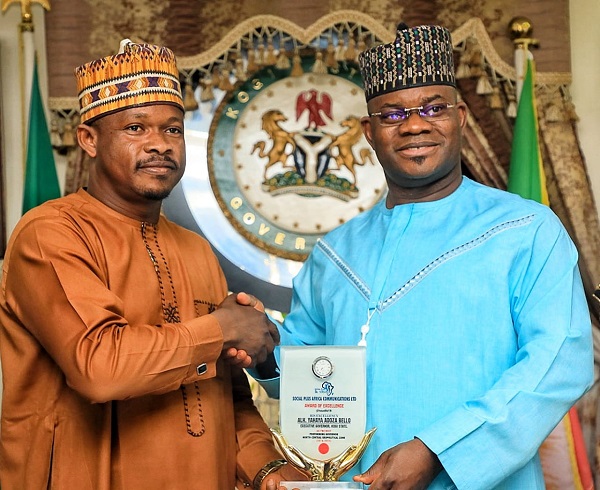 The Kogi State governor, Yahaya Bello, has been presented with the prestigious Award of Excellence by Social Plus Africa Communications Ltd. as the north-central geopolitical zone's best-performing governor.
The chief executive officer of Social Plus Africa Communications Ltd, Amb. James Momoh, who presented the award to the governor lauded the governor's "exceptional leadership and unwavering dedication" to the advancement of Kogi State.
The organisation acknowledged Bello's transformative leadership style, which has resulted in significant positive changes across various sectors within the state. In addition, Social Plus Africa Communications Ltd unveiled a magazine during the event, showcasing the extraordinary achievements and milestones accomplished under Bello's administration.
The magazine provided insights into the governor's innovative policies, infrastructural development projects, socioeconomic reforms and tireless efforts to improve the lives of the people of Kogi State.
In his acceptance speech, Bello expressed his gratitude to the visiting team and emphasised that this award is a testament to the collective endeavours of his administration and the people of the state.
Momoh emphasized that, under Bello's guidance, the state has witnessed substantial infrastructural development, particularly in road construction, healthcare facilities, education and agriculture.
The administration's innovative policies and socioeconomic reforms have attracted both local and international investments, fostering economic growth and generating employment opportunities throughout the state, he disclosed.