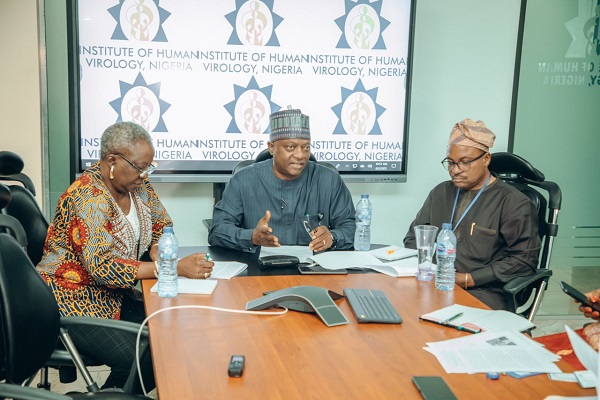 The Institute of Human Virology Nigeria (IHVN) has disclosed that the launch of its new campus is aimed at fostering evidence-based research and implementation in Nigeria and globally.
The chief executive officer of IHVN, Dr. Patrick Dakum revealed during a press conference in Abuja on Friday that the launch of the institute's state-of-the-art multi-campus is set to bring high-quality healthcare services within the reach of Nigerians.
Dakum emphasised that the construction and commissioning of the campus represent a significant stride towards creating a cutting-edge platform for capacity building, implementation, and research. "We are taking global standards very seriously and everything we do here is geared towards meeting those standards.
"We are increasingly convinced that achieving the Sustainable Development Goals, particularly Goal 3, which focuses on creating healthy communities, requires effective global and local partnerships. This campus aims to contribute to these efforts in Nigeria and beyond."
The executive director of the international research center of excellence at IHVN, Prof. Alash'le Abimiku highlighted that evidence-based research and implementation programs have revealed that countries, especially those with limited resources like Nigeria, can effectively combat diseases through multidisciplinary resources, institutions, and dedicated facilities for healthcare delivery.
For the past 19 years, IHVN, as a non-profit and non-governmental organisation, has been addressing the HIV/AIDS crisis in Nigeria by establishing infrastructure for treatment, care, prevention, and support for affected individuals. Abimiku added, "Over time, we have expanded our services to cover other communicable and non-communicable diseases such as Tuberculosis, Malaria, Cancer, COVID-19 and other emerging diseases".
She stressed the importance of research conducted by the institute in improving the management of these diseases and populations. "Firstly, we must understand the unique aspects of these diseases within our population and then conduct research to inform better management," she explained. Abimiku also highlighted the significance of the clinical trial unit, which investigates the introduction of new treatments or vaccines into the population. Through these trials, the institute gathers data specific to the population, including efficacy, adverse effects, and observations, which are then shared with policymakers and the government.
The chief operating officer and managing director of IHVN, Dr. Charles Olalekan Mensah expressed that the commissioning of the IHVN Campus is expected to revolutionise the fight against both emerging infectious and non-infectious diseases in Nigeria and Africa.
Mensah stated, "So far, IHVN has provided support to improve the quality of life for people living with HIV through treatment, care, and support. We have also empowered healthcare workers through training and strengthened laboratory capacity in the country." He further mentioned IHVN's efforts to enhance access to basic nutrition services for vulnerable groups, reduce the burden of tuberculosis, combat gender-based violence, and support orphans and vulnerable children.
According to Science Nigeria, IHVN has officially announced the upcoming launch of its state-of-the-art multi-campus, which will provide millions of Nigerians with access to high-quality public healthcare, treatment training, and research.
The IHVN Campus, situated on Plot 62, Emeritus Umaru Shehu Avenue, Cadastral Zone, COO, Abuja, encompasses leasable office buildings, clinical laboratories for diagnosis, research and training, functional clinic spaces for patient care, clinical trials, bio-specimen repositories for storage and management, multimedia lecture auditoriums, meeting rooms and offices.
The launch event, scheduled for June 6, 2023, will be preceded by a scientific seminar focused on addressing local health challenges through quality research and partnerships. The seminar will gather prominent scientists and public-private stakeholders in the health sector, with the director of the Institute of Human Virology, Baltimore, USA, Professor Robert Gallo; Executive director of the International Research Center of Excellence (IRCE), Prof. Alash'le Abimiku and director-general of the Nigerian Center for Disease Control (NCDC), Dr. Ifedayo Adetifa as the main speakers.
Prominent figures like Gallo, globally acclaimed co-discoverer of HIV, are expected to grace the occasion, along with other dignitaries.