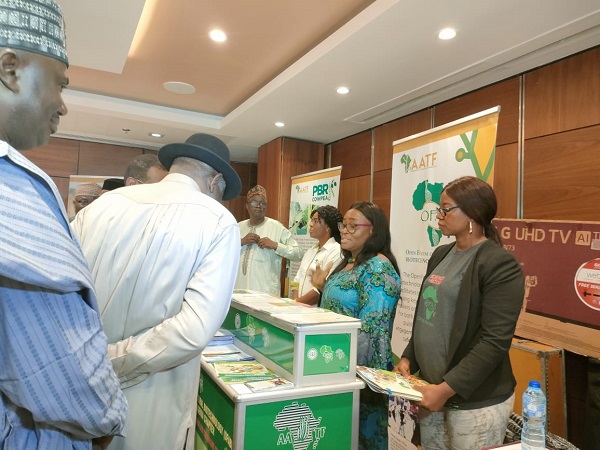 The director of the agricultural biotechnology department at the National Biotechnology Development Agency (NABDA), Dr. Rose Gidado has lauded former President Goodluck Ebele Jonathan's significant contribution to Nigeria's biotechnology development.
In an exclusive interview with Science Nigeria during the unveiling of Dr. Goodluck Jonathan as the African Agricultural Technology Foundation (AATF) Goodwill Ambassador, she praised the foundation's choice and congratulated the former president on his appointment.
Gidado emphasised that Jonathan, a staunch advocate of innovation, played a crucial role by signing the National Biosafety Act into Law in 2015 during his presidency. This act led to the establishment of the National Biosafety Management Agency (NBMA) and laid the framework for the application of modern biotechnology in Nigeria.
She explained the importance of the biosafety act, stating, "If we didn't have any biosafety act in place, of course, we wouldn't have been where we are today. He actually did it for us all, and we're so happy that he has agreed to identify himself with us, moving us forward in Africa".
Gidado highlighted how Jonathan's support for biotechnology encouraged researchers to conduct more research, resulting in improved crops that have been commercialised in Nigeria. She expressed her belief that he is a fitting ambassador for biotechnology.
During the event, the executive director of AATF, Dr. Canisius Kanangire underscored the organisation's commitment to enhancing food security, livelihoods and sustainable agricultural practices by bridging the gap between science, technology and farmers. Kanangire emphasised that change is a collective effort involving governments, the private sector, civil society and individuals to shape Africa's agricultural landscape.
Jonathan, in his remarks, emphasised the vital role of technology integration in Africa's agricultural sector. He recognised that technology can significantly boost productivity, protect crops from insect damage, and ensure smallholder farmers achieve quality harvests and increased yields. As the AATF Goodwill Ambassador for Agriculture Technologies in Africa, Jonathan expressed his strong belief in sustainable development and the potential of technology to enhance prosperity among African farmers.
He highlighted agriculture's central role in African economies, cultures and livelihoods and its potential contribution to global food production. Jonathan stressed that Africa can achieve food security, nutrition, and poverty reduction through agricultural advancements, particularly benefiting smallholder farmers who play a pivotal role in feeding the continent.