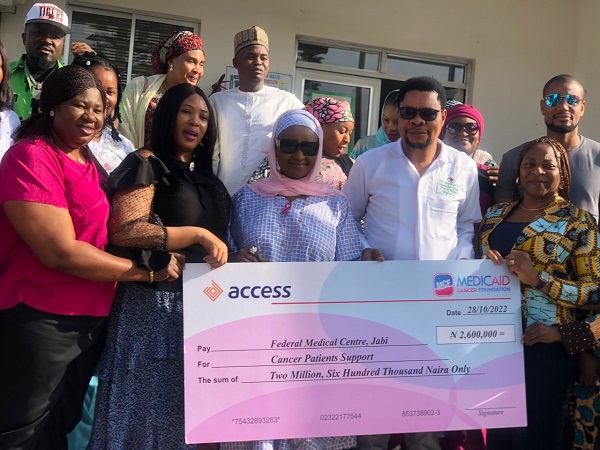 The wife of the Kebbi State governor and founder, Medicaid Cancer Foundation (MCF), Dr. Zainab Shinkafi-Bagudu has donated N2.6 million to 13 cancer patients at the Federal Medical Centre (FMC) Jabi for their treatment.
Bagudu, who is also a director at the Union for International Cancer Control (UICC) and a consultant paediatrician said very little was achieved without partnership in the fight against cancer.
While she hailed humility as the starting point of great collaboration, she called on the Federal Government to create the atmosphere for more collaboration to create more awareness of cancer in the country.
According to her, although there is no cure for cancer yet, detecting and treating the disease at an early stage can improve a person's outlook significantly.
She said that many factors influence the likelihood of successful cancer treatment, including the type of cancer.
However, Bagudu said that government and all relevant stakeholders need to work to help improve the lives of people with cancer in the country.
"We must do this in several ways by supporting those living with cancer, raising awareness about cancer and related issues, advancing cancer research, improving the quality of cancer care, addressing legislative and regulatory issues affecting cancer care and research," she said.
Shinkafi-Bagudu stated that many people find cancer advocacy to be a positive and empowering experience.
In his remarks, the FMC medical director, Prof. Saad Ahmed welcomed the partnership.
Ahmed, who was represented by the head, clinical services, FMC Jabi, Dr. Eziechila Joseph, called cancer a "difficult and expensive disease to manage" because so many people cannot afford the treatment.
He said that a patient would spend over USD800 to manage the disease.
Ahmed stressed the need for people to present themselves early to the hospital for checkups to avoid late treatment.
He, however, reasoned that Nigerians can reduce their risk of getting cancer by making healthy choices like keeping a healthy weight, avoiding tobacco, limiting the amount of alcohol they take and protecting their skin.