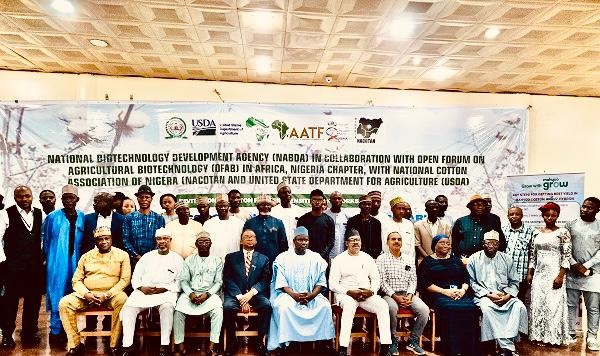 The director-general of the National Biotechnology Development Agency (NABDA), Prof. Abdullahi Mustapha, has said the Bacillus Thuringiensis (Bt) cotton, commercialised in Nigeria in 2018, has raised hopes for the revival of Nigeria's textile industry and has started a revolution that will help Nigeria increase its cotton shortage.
He made this assertion during a one-day stakeholders' training workshop themed "Grass Root Engagement for Sustainable, Commercialisation of Bt. Cotton" organised by the Open Forum on Agricultural Biotechnology (OFAB) in Africa, Nigeria chapter, under the auspices of NABDA. Also collaborating in the organisation was the United States Department of Agriculture (USDA) and the National Cotton Association of Nigeria (NACOTAN) today (September 26, 2022) in Abuja.
"The stage has been set for self-sufficiency in the production of cotton as industrial raw material with the subsequent transformation of the textile industry. The productivity data of the improved varieties of cotton obtained from farmers' fields has raised the hope that the moribund textile industry in Nigeria would soon come alive. Nigerian farmers who would be involved in Bt cotton business would be empowered to enjoy increased productivity.
"The value chain of cotton from the farmers to processors, cottage industry workers, to the spinning and textile industry will also create job openings that government is clamouring for jobs will be created, wealth generated, the ginneries reactivated and Nigeria will be able to export cotton to other countries of the world as well as become a global trade player," he said.
Represented by the agency's director, department of agricultural biotechnology, Dr. Nasir Ibrahim, Mustapha said NABDA will not relent in its efforts to continually train farmers and other stakeholders on the adoption of cutting-edge technology such as genetically modified seeds enhanced to boost productivity.
"While I applaud our partners and other key players contributing to the success of the adoption and deployment of biotechnology in Nigeria, I implore all trainees at this workshop to embrace this technology and sensitise others at the grassroots, so that, together, we will grow wealth and fight hunger and poverty in the nation," he added.
In his remarks, the director-general, National Biosafety Management Agency (NBMA), Dr. Rufus Ebegba described Nigerian farmers as opportune to have access to the Bt Cotton. He said the crop will improve productivity, increase yield and reduce the use of pesticides which, invariably, reduces Green House Gas (GHG) emissions which deplete the environment.
Ebegba urged the farmers to discountenance the misinformation being peddled by anti-technology crusaders, as he emphasized that, in 2018, the crop was commercialised and went through all safety checks to ensure it is safe for human consumption, feed and does not constitute a threat to the environment.
According to him, the crop was approved by the government after it had passed all safety checks and proved it could contribute to the nation's economic development.
The NBMA boss urged the farmers to trust that government would not approve any product that will be harmful to the public in the market, even as he urged them to trust that every product approved by the agency is safe for humans, animals and the environment.
In his goodwill message, the counsellor of agricultural affairs, US Mission Nigeria, Mr. Gerald Smith, posited that population growth, climate variabilities and limited farmland mean that farmers in Nigeria and across the developing world need yield advantages.
"Despite large cotton planting areas, Nigeria lags behind other cotton-cultivating countries in terms of production. I believe the use of Bt Cotton can help foster increased yield and productivity," he said.
Smith highlighted that Bt cotton production in Nigeria hinges on establishing and maintaining trust among stakeholders, farmers, researchers, regulators, community groups and the private sector. He added that by addressing challenges to building trust and engaging in trust-building practices early on, large-scale Bt cotton adoption is likely in Nigeria.
In his remarks, the national president, National Cotton Association of Nigeria (NACOTAN), Mr. Achimugwu Anibe said farmers have witnessed increased productivity and yield since the advent of Bt cotton.
Represented by Mr. Ado Sule, Anibe posited that farmers can't get enough of Bt cotton seeds, as farming it over the past years has improved their fortunes. He disclosed that most farmers have upgraded their lives with proceeds from the improved cotton seeds.
Earlier, the country coordinator, OFAB, Nigeria chapter, Dr. Rose Gidado, said the aim of hosting the training and sensitisation workshop was to bring key cotton stakeholders, including farmers, together, with cotton farmers drawn together from different states and engaged in one-on-one interviews with "early adopters" and farmer community leaders.
According to Gidado, the information collected from these engagements will be used to create content for both local television and radio programming, including the production of compelling narratives describing how the adoption of Bt. cotton has improved livelihoods.
"Investment in awareness-creation on agric biotechnology issues will deliver multiple positive responses. There is the need to unbundle the application of this technology for national growth [and] to secure popular support from the masses," she added.