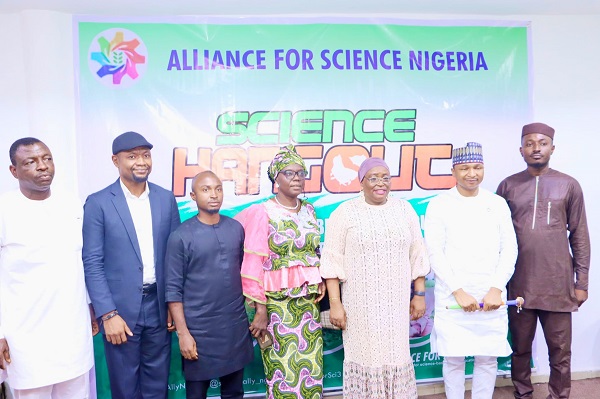 The country coordinator of the Open Forum on Agricultural Biotechnology (OFAB), Nigeria chapter, Dr. Rose Gidado, has highlighted improved productivity as one of the positives Nigeria could gain with the adoption of modern agricultural biotechnology.
She made this assertion while speaking to journalists at the 'Science Hang-out' meeting organised by the Alliance for Science Nigeria, in partnership with OFAB, themed "Status of GM Crops in Nigeria" in Abuja.
Gidado highlighted that, as products of biotechnology, genetically modified (GM) foods have been verified to provide more nutrients, save costs and yield huge harvests for farmers.
Reacting to rumours that GM products are unhealthy and cancerous, Gidado said GM foods are one of the healthiest foods anyone can consume because they undergo lots of scrutiny before they are consumed.
"The challenges I have faced is people talking evil against us, antagonising our efforts, especially in the aspect of public education. We need to change our mindset to the positive side and embrace technology. We lost out in other revolutions but, in this one, the biological era – when I say 'biological era', I am talking about sustainability, economic diversification, moving away from the fossil fuel to alternatives which give you sustainability and all worth, because the fossil fuels contribute more to the global warming which is making us suffer.
"This technology mitigates that, so I feel so as sad when people don't accept it, [make effort to] understand that it is science and technology. We have to embrace the emerging technology."
Earlier in his opening address, the 'Science Hang-out' convener, Mr. Opuah Abeikwen, an Alliance for Science fellow, stressed that the first edition is to create awareness that will lead to the adoption of GM foods and the need for collaboration and partnership to foster communication cannot be overemphasised.
"Challenges in agriculture could take away part of people's culture. More challenges are related to crop plants that threaten agriculture and the food system – drought, and climate change that has resulted in malnutrition, poverty and hunger in our society.
"All these challenges are there and, throughout the years, research in conventional breeding has been unable to solve these challenges. But biotechnology has shown promise to conquer them. In Nigeria, we have commercialised cowpea and cotton with positive results. I can go on and on where biotechnology has proven to be the game-changer in the agricultural system," he said.
In his goodwill message, the chief executive of Connected Development (CODE), Mallam Hamzat Lawal, posited that people should not be carried away by sensation and conspiracy, especially when data and evidence are straightforward.
"We have to explore innovation. Innovation is here to stay but I am glad we have a legal and regulatory framework. That is the role of the National Biosafety Management Agency (NBMA), to ensure safety because biotechnology is here to stay," he added.