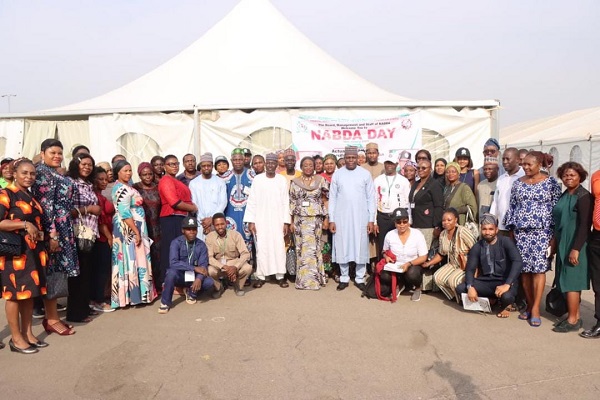 The National Biotechnology Development Agency (NABDA) has tasked stakeholders in the science sector and Nigerians to be advocates of science, technology and innovation to ensure the progress and socio-economic growth of the country.
The agency's director-general, Prof. Abdullahi Mustapha made this call during a side-event 'NABDA Day' themed 'NABDA's Actualisation of Economic Diversification Strategy through modern Biotechnology' at the just concluded STI Expo held in Abuja.
According to him, NABDA, through its innovations in agriculture, medicines, environment and industry, is impacting national growth.
Listing the agency's innovative breakthrough through biotechnology, the NABDA helmsman said, so far through collaboration, the agency has produced the maruca-resistant cowpea and cotton which have all been certified healthy and environmentally friendly.
Speaking further, he said another product, the insect and draught-resistant, TELA maize would be released soon to boost the food production chain and diversify the economy.
He said the new variety of maize, which is going to be released in a few days, will be farmers' choice because it would guarantee high yield and off-season farming.
"We are working on a new variety of maize. By next tomorrow I will be attending a committee meeting to see that we release the variety of maize that is insect and drought-resistant.
"The farmers are anxiously waiting for the release. This specie of maize has high productivity, high tolerance and [is] insect-resistant.
"This is what we produce in NABDA and this is our contribution to the economy.
"We call on investors to collaborate with us, put heads and strength together so that we can add value to the resources that we have to create wealth and boost the economy of Nigeria."
Mustapha, who harped on the need for diversification of Nigeria's economy, said the future of petroleum is bleak and called for public and private sectors to collaborate with NABDA through funding of its research and commercialisation of its outputs.
"Diversification is necessary. If you diversify, you have many revenue sources that can bring you gains when one is unavailable.
"Science and engineering-based innovation is necessary in the world now. Without science and engineering, nothing will move.
"Now, Nigeria must invest in science and engineering to move forward to diversify. The moment you do your science, carry out your experiment in the laboratory, you move it out for experiments and, then, the new technology company will emerge. By emerging, you know that there is going to be export and economic growth, job and wealth creation will happen and that is the growth of the economy.
"With the growth of the economy, what is expected is that the economy begins to fund science, technology and innovation. This means it will fund the knowledge of the universities, research institutes and scientists. This is what obtains around the world.
"We have to start thinking of investing in biotechnology, so we can make it right from now. There is no African country not involved in the diversification of biotechnology and we need to explore that," he added.